Bellatrix's Sculpey skull project – Part 1
Whee it's Harry Potter week! And here's how my bird skull project for Bellatrix Lestrange went.
Oh but before I forget, a forum member at The RPF pointed me to this website that was selling a bird skull necklace that was almost identical to the one Helena Bonham Carter wore. I'm positive the art department for Harry Potter used that necklace as a base but gave it a different finish.
Unfortunately though, it retails at £234, which is approximately S$480. Talk about a wallet burner!
I think I'll stick to my $5 Sculpey.

Ingredients:
Block of Sculpey polymer clay
Basic clay tools
Oven
Pendant holder
Sandpaper
Black and Silver acrylic paint
Black and Chrome airbrush paint
Airbrush
Those are what I used, but not everything is absolutely essential. At the very least, you'll need your Sculpey, an oven (because Sculpey doesn't air dry), and some silver paint.
A regular block of Sculpey is actually a LOT for the pendant we want to make. I used maybe one sixth of a Sculpey block for a single bird skull.
And no it's not chocolate! I just happened to have some Sculpey left over from an old project and somehow they were brown. They did look very much like chocolate though!
It took me hours and hours just to get the shape right. Mine isn't perfect, but it was the closest I could get. It took me quite a few tries before I got the size right as well.
Here's a tip: keep your nails short. I had to remove my nail polish and trim them short in the middle of trying to make my skull because it just interfered badly.
From skull to beak mine measures about 4.7cm. You might wanna size up or down depending on how it looks on your neck. Honestly I wouldn't have minded it a little smaller for me.
You can get pendant holders from pretty much any bead shop you find. Very important because if you don't have one, you will not be able to hang your pendant on a necklace after you're done.
Baking time! (Yes I made two…) I'd recommend baking it for about half an hour at least.
Also if your sculpey is too close to the heat source, it'll burn. One way to counter that is to lightly wrap the sculpey in aluminum foil, which should help to deflect the heat. You don't want to end up with a blackened and charred bird skull (like my initial one)! Unless that's the intended effect…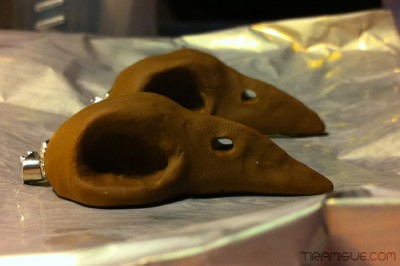 Post-baking success!
Watch out for Part 2, where I paint them (or attempt to at least)!