"Time Will Tell."
A bit late, this post. But still valid, since the video just got posted to youtube.
I took part in the 48 Hour Film Project (again!) this year, with some of the most talented and dedicated people I've ever had a chance to work with. This film competition is pretty straightforward, basically you have 48 hours to write, shoot, and edit a film. On Friday night at the kickoff, you are given three things that have to be in your film: a prop, a character, and a line of dialogue. We then draw our genre from a hat!
Here were the required items for Singapore.
Character: Jason / Jaime Chen, a librarian
Prop: Apple
Line of Dialogue: "Time will tell."
Our genre… dum dum dum! Mockumentary. Which I think is what David, our director, was happy to do. Thing is, I drew mockumentary as well two years ago at our previous 48HFP. I didn't want to do it again, so we decided to go with Wildcard.
(What's with me and mockumentaries?)
Our wildcard genre: Time Travel Movie.
48 hours later, lack of sleep and cranky, we submitted our film. Complete with monkeys, a time traveling librarian, and an old dusty piece of parchment. I love the parchment. It was made by my brother, who worked on it overnight in time for our shoot on Saturday morning.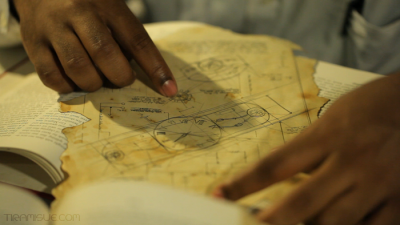 And our final film! Sorry if it doesn't make a lot of sense. Haha.
Here's a look at what happened behind the scenes! And yes, once more we shot in two continents.

(Shot and edited by Siwei)
An especial thanks to our entire cast and crew! It was an absolute blast working with ya'll. I love you all! Especially Eunice, my co-partner-in-crime. <3
Coming up soon: New film project! Stay tuned!