Love a good hāngi!
My first day in New Zealand was the first time I'd heard of this thing called a hangi, which is the traditional Maori way of cooking food. And how this Kiwi dancer, Ben, explained it to me was that it was a big barbecue on the ground.
So the next day we were talking about hangis and another dancer, a part Maori dude asks me if I know what it is. I'm like, oh yeah Ben told me about it yesterday; it's a barbecue on the floor! He turns to Ben with this flabbergasted look and goes, is that what you told her?! Ben says, yeah pretty much!
It's partially true, but a hangi is a lot more than just a floor barbecue. It's actually a big earth oven, in a pit that has been dug in the ground. It's covered with stones which are heated, with meat and vegetables going on top, covered with a sack cloth, and left to cook for a few hours.
First thing we did in Rotorua was visit a Maori village and have a hangi.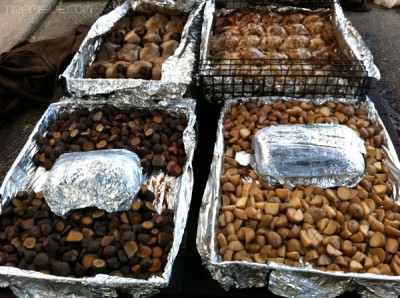 (from top left in a clockwise direction: lamb, chicken, kumara aka sweet potato, and potato!)
Our Maori guide uncovering the hangi.
After that we were taken down to the stream to catch Maori war canoeing in action, then to a theatrette (of sorts) for a cultural performance by the Maori, where they demonstrated war/fighting techniques, games, songs, dance, and of course, the haka.
By then, the food had been transferred from the hangi to the buffet table and what a feast it was!
I have great admiration for the emcee, who took the time to greet every country in their native tongue. And we had around 20 countries represented! We noticed that they're usually a little stumped at Singapore though. The first Maori cultural thing we did in Auckland, the lady settled on Selamat, as a greeting. Pretty impressive!
This time, the emcee asked what language we spoke. With a laugh, we said, oh English. But he greeted us in Mandarin anyway (clever!) and said we were pretty (lol!).
We were absolutely stuffed by the end of the night! That probably ranks number one as the best meal we've had on our trip thus far. It was that good.