The Start of an Epic Journey
It's a journey all right, and it's most definitely going to be epic. Like Frodo and Sam going to Mount Doom. Except I'm not actually gonna climb Mount Doom (but more on that in another entry).
I've been in New Zealand for about 3 weeks now, yet this is my first blog entry on it. With so much going on I completely forgot I wanted to keep a travel journal! Still, better late than never.
So, how did we get here?
Long story short, Eunice and I decided to quit our jobs, get a working holiday visa, and come over here! This has been in the planning for about a year or so, so we're extremely glad to finally be in New Zealand.
Our journey started in Auckland with the New Zealand Open Swing Dance Championships. We like to coincide our travel dates with dance events in the region; besides dancing, it's a fantastic way to meet locals!
That's Lance, who was nice enough to let us sleep in his lounge and drive us around in his HOT BM (no srsly that's the license plate of his car).
One thing unique about Auckland that I found incredibly cool is that it's a city built on volcanoes. 48 of them to be exact. Some of them are extinct, but in fact most are dormant, so it's not a matter of if they will erupt again, but when.
We were staying in the suburb of Mount Eden so one afternoon Eunice and I took a walk up that volcano. It was beautiful!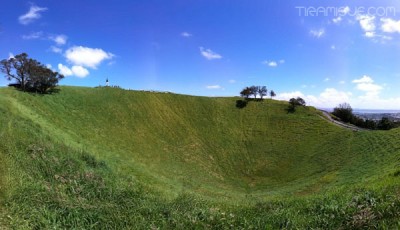 We had an amazing 360º view of the city from the top!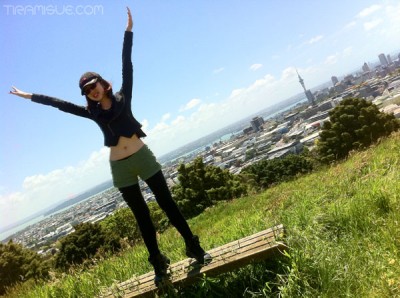 I had some awesome experiences in Auckland (like setting off fireworks on Guy Fawkes day – totally totally illegal in Singapore), and met some awesome people, but ultimately Auckland's a city like every other city, and after a while, I was just raring to leave.
Next destination: Smelly Rotorua
PS. The header image of this post is a photo of the Rangitoto volcano island, which erupted 600 years ago!