There and Back Again – A Hobbit's Tale
Visiting the Shire was something I always ALWAYS wanted to do, and given that this was my first Lord of the Rings location visit in New Zealand, as you'd expect, I was incredibly excited. (Well, I'm excited at any LotR location visit, but yeah you get the drift..)
Lots of squealing and happy grins that garnered a couple of raised eyebrows from Eunice.

On the bus from Rotorua with my map of the Shire!
Unfortunately this is going to be a rather short entry because along with the aforementioned map, we were made to sign a confidentiality agreement that basically went: You can take as many pictures as you want of Hobbiton but you can't post them online and if you do we'll sue you.
So much for that. Now as a result we have a whole bunch of amazing photos that will never see the metaphorical light of the internet.

Here's what I can post: a photo with the bus
All I can say is that Hobbiton is nothing short of amazing. Also we were very lucky because we visited just after they wrapped shooting on The Hobbit. If we'd been but a week earlier we would have missed it. And they spruced up the set for filming, so pretty much whatever we saw was whatever was left from the shoot. Beautiful beautiful beautiful.
My only gripe was not being able to visit The Green Dragon and the stone bridge. We saw it from a distance but that side of Hobbiton was closed off. Perhaps one day they'll let people there. Nevertheless the rest of the set was pretty spectacular, like the Party Tree, Bag End, and the fake oak tree on top of Bag End…
Every fan visiting New Zealand should most definitely go to Matamata and do the tour. It's close enough to Auckland and you don't have to hike for miles or travel by helicopter to reach it!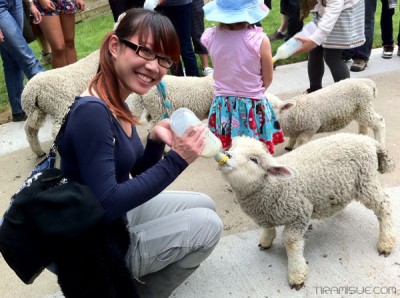 After the tour we watched a sheep shearing (something we realised we're never gonna be able to do) and then we fed some lambs! Oh look they're so cute!
I leave you with this video of a little girl trying to bottle feed the lambs. Oh, childhood.
Next entry – Tongariro Alpine Crossing!