A Day in the Life of a WWOOF-er
Ok granted, this is not gonna be the same thing that every WWOOF-er experiences in their daily life (every farm/household is different and everyone does different things), but this is just what I've been living the past two weeks as a WWOOF-er in Central Hawkes Bay, New Zealand.
Oh also, before I go on, WWOOF stands for World Wide Opportunities on Organic Farms. It's an organisation that links volunteers to organic farms around the world (or in our case, New Zealand). Volunteers live with their hosts, with food and accommodation provided in exchange for work.
And for two city girls from Singapore, it's a great way to experience country life, Kiwi style.
Our Location: Rural town of Takapau, Central Hawkes Bay
Our hosts: Paul and Anne
7:30am
Our alarm goes off. I'm up by the second snooze, while Eunice will snooze.. well a lot longer. (There's like a 20 minute delay between us, so if I wake up late, she will wake up EVEN later. "Oh Sueanne's not up yet, go back to sleep.")
It's toast and jam for breakfast for me. And a cup of coffee. Eunice pops into the kitchen just as I'm finishing up.
8:30am
We get instructions from Paul, our host, and start work in the vegetable planters. We're sifting soil, separating stones and roots and grass from soil. We work like clockwork to fill up the wheelbarrow – one person shovels the dirt into the sieves while the other person does the sifting.
My favourite part of this is finding earthworms in the dirt we dig up. They're kinda cute in a slimy way. And they're really good for the soil so whenever I spot any I pick them up and throw them into our wheelbarrow of sifted topsoil.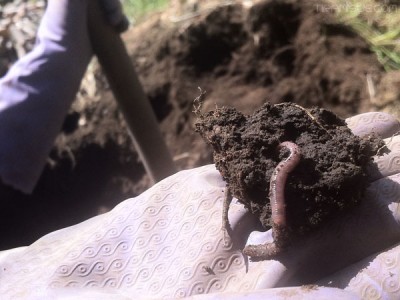 We take between 10 to 15 minutes to fill up a barrow and pour it into the planter, and we reckon it's about 14 barrows to get the planter half full.
When it's half full we put in a layer of straw.
After the straw, a layer of compost (six barrows maybe) will go in, then soil again all the way to the top. And then maybe another thin layer of compost.
Everything goes into the planter in layers like a kweh lapis cake, and then the worms will do the job of mixing everything up nicely.
The compost is where all the nutrients come from. In fact, we make our own compost from our waste food. Things like eggshells, carrot peels, orange/banana skins, and anything that is food (except seeds), go into the compost bin and that gets emptied everyday into huge barrels in the front of the house. Turn the barrel around twice everyday, and after 3-4 weeks it's ready to go into your garden! Simple!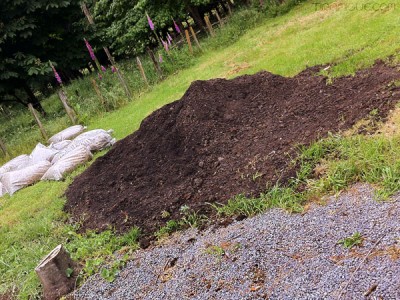 But we'd need more in the planters than we'd be able to produce so that pile of compost there cost Paul about $250.
Anyway after the straw, we start planting some potatoes in the planter we filled a few days before. We plunge our hands into the soil and put a potato in!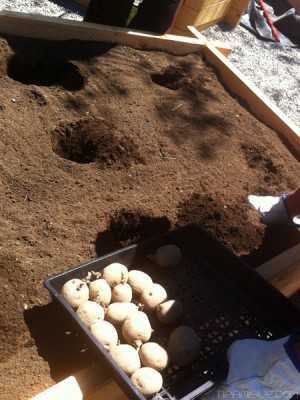 Then guess what goes on top? Sheep poo!

Yes that's a piece of sheep poo!
10:40am
It's time for morning tea. We take a welcome break from work and head into the house for a cup of tea (or if it's too hot outside just a glass of cold water) and biscuits. And maybe a banana for energy.
11:00am
Chainsaw class! Paul shows us how to use a chainsaw and we cut up a fallen tree. I feel like Marcus Fenix.
Then we mow the garden lawns until they are nice and pretty. You think the grass is short, but you'd be amazed at how much cut grass gets collected inside the lawn mower! Just one end of the lawn to the other and it's more than full!
Cutting grass is probably the job I enjoy the least. And the most annoying part for me is emptying the lawn mower. It just gets full so fast! After each stretch you have to stop the engine, empty the grass, and start the motor again.
12:30pm
Lunch is simple – soup and bread. We rest a little before heading back out into the manic sun.
1:00pm
Back to work and here's what it is:
We are transporting cut wood from the field and packing them into the barn. These are gonna be used as firewood during winter!
2:45pm
Off with the gardening gloves! We wrap up our work and our job is done for the day. A nice shower and then an episode of Terra Nova in bed. This is our chillout time. Surf the net, read, sleep the afternoon away…
6:45pm
Time for dinner (or as the Brits call it, tea!). Tea today is fish and chips, and Paul shows us how to make chip butties (pronounced 'booties'). It's basically a fries sandwich. A very English thing I'm told.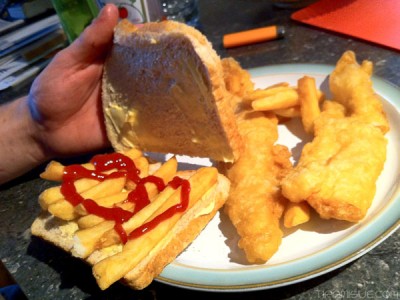 As usual, the cat Timmy gets some fish. He gets a little of whatever we have for dinner every day.
8:00pm
No one's using the TV so we spend the night watching Pirates of the Carribean and drooling over Johnny Depp and Orlando Bloom with a cup of hot chocolate.
11:00pm
And then by 11ish, we're back in bed!
* FYI these tasks didn't actually all happen in a day; most days we'd spend the whole day working on one task, ie. mowing lawns, shoveling soil, cutting grass, digging holes, planting trees and etc.