My Three-Week Culinary Challenge
Before traveling and living on my own, I have NEVER cooked. The kitchen was my mother's realm and us, her minions children, were only good for food prep and washing up.
As such, I am completely clueless about food. But in between frantic IMs to my brother and mum, Jamie Oliver's cookbooks, and the Food TV channel, I'm teaching myself to cook from scratch.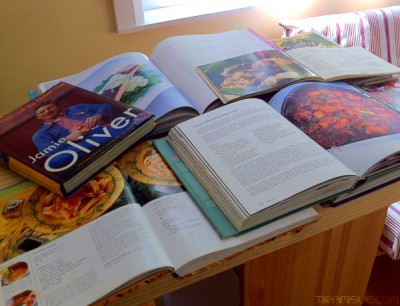 There are shelves and shelves of cookbooks!
So given that I have no job and lots of free time on my hands at the moment, and a full kitchen at my disposal, I've resolved to cook one meal every day for the next three weeks in hopes of improving my culinary skills.
And when I say cook, I mean actually cook. Not microwave.
Naturally, with any challenge there has to be parameters, so these are my rules for myself.
There has to be at least one cooked dish every day.
Microwaving a frozen meal does not count as cooked dish.
Heating up canned food on a stove does not count as a cooked dish.
Instant noodles do not count.
Neither do sandwiches.
Baking is allowed. (ie. if I chose not to cook I may bake a cake instead.)
At the end of each week there will be a blog entry recapping the week's dishes. I'm uploading photos on Facebook too as I go along.
Basically the aim of the game is to get me out of my comfort zone and to spice up my meals. Because as delicious as baked beans on toast is, eating it for days in a row is just no fun.
I started this project on Monday, so look out for a post this Sunday! Oh and leave a comment if you have any cooking tips or cool recipes to share!
Here's a peek!