Three Week Culinary Challenge: Week 1
Sweet as! I made it through the first week of my Culinary Challenge!
DAY 1: Monday – 19 December 2011
Stir fried Chicken with Cabbage and Carrots (served with Basmati rice)
I pretty much just threw onions, garlic, chicken thigh pieces, cabbage and carrots into the pan and stir fried it with dollops of oyster sauce, fish sauce and soy sauce.
Result: It was okay… But there was too much oyster sauce. Still, not bad for a first try.
FINAL VERDICT: BORDERLINE PASS
DAY 2: Tuesday – 20 December 2011
Apple & Cinnamon Cupcakes
Source: Alison Holst's Healthy and Delicious Muffins
Super simple recipe that was easy to follow and tasted great! Stayed pretty true to the original recipe except I removed the skin before grating the apples. Not really big on tasting apple skin in my cupcakes.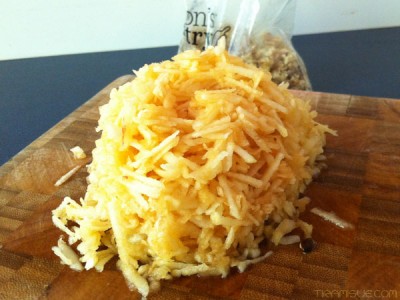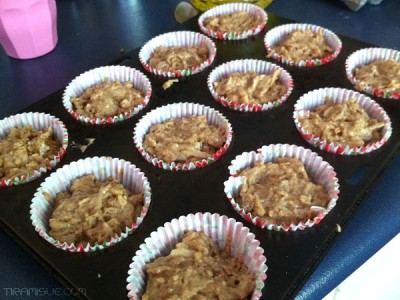 Result: Perfect! Soft and moist and just the right texture. Can't believe how simple that was!
FINAL VERDICT: PASS
Sizzling Beef in Black Bean Sauce with Celery (served with Basmati rice) Source: Jamie Oliver's Ministry of Food Next, for dinner I tried out a stir fry recipe in Jamie Oliver's Ministry of Food cookbook. Followed this recipe pretty close to the book. It called for spring onions but since Eunice doesn't eat that I didn't wanna get it. I substituted it with celery which IMO is a more substantial vegetable (not that Eunice eats celery…).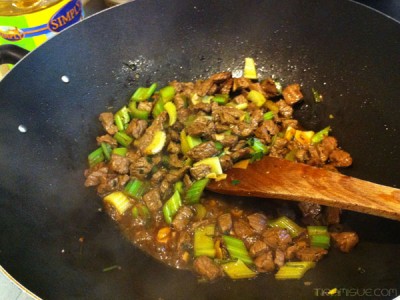 Result: Pretty decent and we enjoyed it. Beef was a little tough though. Perhaps I should have taken it out of the wok sooner…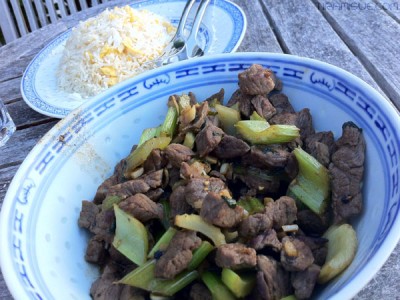 FINAL VERDICT: PASS
DAY 3: Wednesday – 21 December 2011
Carbonara
Source: Jamie Oliver
Oh this was a total disaster. First off I didn't have enough Fusilli for two so we topped it up with mini Macaroni which just wasn't as good. The recipe said to add the egg yolk and cream straight onto the pasta, which is how carbonara is traditionally made.
But the thought of adding raw egg to my food made me a little squeamish so I thought I'd cook the sauce in the pan instead together with the other bacon, mushroom (yes I know mushroom isn't traditionally carbonara but I like them!) and pasta.
BIG MISTAKE. I got curdled scrambled egg instead of creamy pasta sauce.
Result: While still tasty, it was definitely a fail dish. I added hot milk to my dish and mixed it up it made it a little better. Eunice thought it was still good though. <3
FINAL VERDICT: FAIL
DAY 4: Thursday – 22 December 2011
Cornflakes encrusted chicken bites
For my birthday we decided to have a simple picnic. Was searching for picnic foods and came across cornflakes crusted chicken bites. And then I remembered that Jamie Oliver had a similar recipe (Crunchy Garlic and Lemon Chicken) in one of his books except he used Jacob's crackers instead of cornflakes.
So I sorta took a little bit from each recipe and came up with this.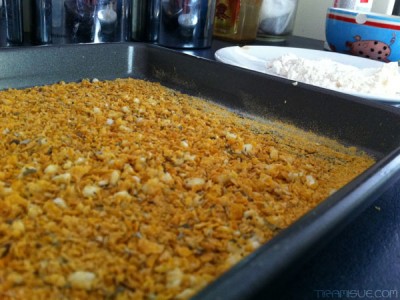 I cut up my chicken into bite sized pieces, dipped it in flour, melted butter, then the cornflakes/garlic/herb mixture, while Eunice pan-fried them to crispy perfection.
Result: Yummy golden brown goodness. After eating we realised the key ingredient that made this stand out was not so much the garlic or cornflakes, but the herbs that went into the mix. You can really taste it and it gave the chicken a different zang!
I gotta find a better way to get the crusty cornflakes to stick to the chicken because a lot of them fell out during and after cooking.
FINAL VERDICT: PASS
DAY 5: Friday – 23 December 2011
Chocolate Pancakes drizzled with Hot Fudge sauce
Source: The Essential Dessert Cookbook
Since I wasn't gonna be home for dinner I decided I'd cook breakfast instead. What's a classic breakfast item? Pancakes.
But I wanted something more challenging than regular butter pancakes… so I picked chocolate pancakes instead, complete with hot fudge sauce.
I didn't have dark chocolate chips or any dark chocolate at all, so I made do with milk chocolate. The pancake batter took a while to prepare, but it was all good in the end. Aside from me burning the base of some of the pancakes (I'm not too good at gauging), the pancakes turned out exactly how they were supposed to be: light and fluffy.
My hot fudge sauce though, was a fail! I shouldn't have tried to melt it directly on the stove because that's not how you melt chocolate! You're supposed to double boil it! I completely forgot and none of the recipes I referenced even mentioned it.

I'm not letting this one go and I'm definitely gonna attempt hot fudge sauce again.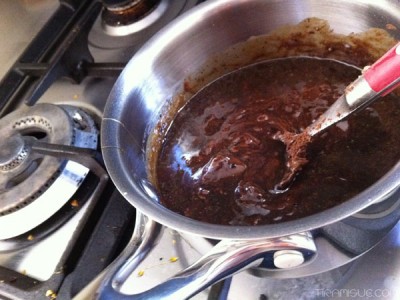 Result: Despite the failure of my hot fudge sauce, it still tasted good with some strawberries on top of the chocolate pancakes.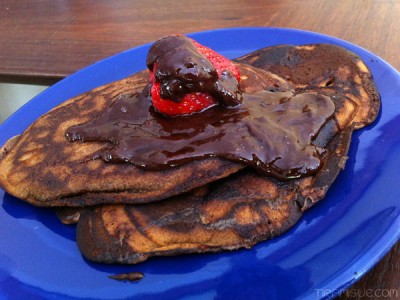 FINAL VERDICT: PASS
DAY 6: Saturday – 24 December 2011
Nasi Goreng with Beef
I bought a packaged Nasi Goreng paste from the supermarket a couple of weeks earlier and finally got a chance to use it.
First the omelette, then the beef with onions, then I set those aside, and put my leftover rice and Nasi Goreng paste into the wok. Fried it until the rice broke off from their clumps and each grain was a nice orange shade.
After that the beef and eggs went back into the wok to be tossed around with the rice and at the very end I added some lettuce.
Result: It was good and I loved it. Although it doesn't taste like the kind of Nasi Goreng you'd get in coffeeshops in Singapore, it was yummy and reminded me of my mum's cooking because she's made fried rice like that before. Also I didn't really follow any recipe for this so I'm glad it turned out as well as it did!
FINAL VERDICT: PASS
DAY 7: Sunday – 25 December 2011
Steak and Mushroom sauce, Buttered Spinach and Kumara Fries
Christmas dinner and we decided to have steak. We've never made steak before and I couldn't find a straightforward steak recipe so I was a little concerned. And steak had to have gravy so that means an additional sauce to make.
A quick Google search turned up so many recipes I had no idea which one to use. In the end we didn't follow any single recipe for the steak and sauce.
I made a quick marinade for the steaks with olive oil, balsamic vinegar, salt and pepper, rubbing and coating both sides evenly. That's how you marinade right? I'm clueless.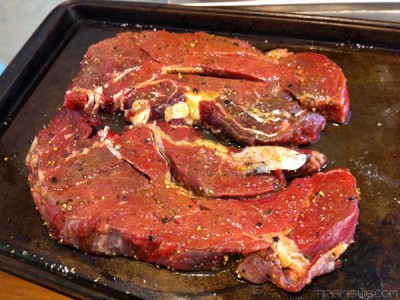 For the sauce I sautéed the mushrooms, then according to some recipe on the internet I added milk and cream and a bit of plain flour. It looked far too white and a little dubious so at the last minute I decided to add some beef stock. I think that saved the gravy.
And while I was fussing over my mushroom gravy, Eunice cooked the steak, and the spinach, and baked the kumara fries. Yeah I can be a bit slow…
Result: Steak was undercooked and instead of the medium or medium rare we were aiming for, it was very rare and also incredibly chewy. It was still tasty and juicy though! We finished half our steak then decided to put it in the pan again to cook it even more. The spinach and mushroom sauce were wins, kumara fries was a little soggy but still good.
However, because we had to recook the steak, it became an automatic fail.

FINAL VERDICT: FAIL