To Mount Doom and back – Part I
Five am on a Saturday morning, my phone alarm blares. I shut it off and go back to sleep. A couple of minutes later, in the bed across from me another alarm rings. Eunice, my best friend and travel buddy silences it. Mine goes off again shortly… and then hers… and mine again… until after 15 minutes of snoozing I decide it's enough and reluctantly leave my warm bed.
I shuffle off to the bathroom and when I get back I grope around my suitcase in semi-darkness for my cargo pants. Ignoring the fact that everyone else in our dorm is male, I quickly strip off my shorts and pull on my pants and a fleece jacket for warmth.
Eunice likes to snooze a little longer than me, so it's usually my job to rouse her from her slumber. I shoo her off to the bathroom and hurry to pack our haversacks as quietly as possibly, muttering fervent prayers for good weather in between throwing sunblock creams, bananas, extra socks, and various other odds and ends into my backpack.
By now it's about six and I run to the kitchen to grab our lunch. There are no shops on the mountains so everything we consume has to be brought in, even water (we carried three litres each).
Our bus is waiting outside the hostel and we quickly scurry out of the room and on board our transport that will take us to the Tongariro Alpine Crossing.
I was really excited coming on this hike, but also pretty nervous because the Tongariro Crossing is not exactly a stroll in a park. Alpine weather is harsh and it changes really fast and also it's a 20km hike! Who am I kidding?? You need lots of strength and stamina and I had none of those in any reasonable quantity!
Still, this is regarded as one of the best single day hikes in the world, and I'd heard so much about it I was determined to try anyway.
Pretty much everything could be hired on the bus, so you needn't fret even if you didn't have appropriate hiking gear/clothes.
Here's what I had on from head to toe:
Beanie (keeps the wind and cold out of your head and ears)
Sunglasses (blocks the glare of the sun)
Cotton Tshirt
'Ask me about my zombie plan' Hoodie
Rain/Windproof jacket (this was rented from our tour operator)
Gloves (I cannot stress on how important these are! I had a pair of warm fleece gloves and even then my fingers were frozen half the time)
My 5.11 tactical pants (waterproof with plenty of the pockets)
Combat boots (the most comfortable pair of footwear I own)
I had two outerwear (my hoodie and fleece jacket) but neither were wind or water proof so I had to get another jacket from the bus and I ended up carrying my purple fleece jacket all of the way. Eunice rented hiking boots and a jacket. Unsure of what to expect, we also to hired fleece pants, but didn't use it in the end.
Tongariro Expeditions has a neat system where you get your money back if you end up not using a certain item. The jackets and pants and etc have little labels on them and if you tear them you've used them but if you return them intact you get your money back. I guess they don't want you to end up not taking something you might need.
(One thing we did not take but would have helped us a lot were walking poles. I thought we could do the hike without it so I didn't ask for them. But it really helps when you're climbing or trying to crossing slippery snow.)


Map and a cross section of our trek
By the time we got all our gear and stuff sorted out, it was already 8 in the morning and the sun was pretty high in the sky.
We start at Mangatepopo, cross the saddle of Mount Tongariro and Mount Ngauruhoe (aka Mount Doom) and eventually end at Ketetahi. It's much easier to do it this way than going from Ketetahi to Mangatepopo, because you're starting off at a higher altitude and thus have less to climb.
The track starts off pretty level, gently sloping upwards.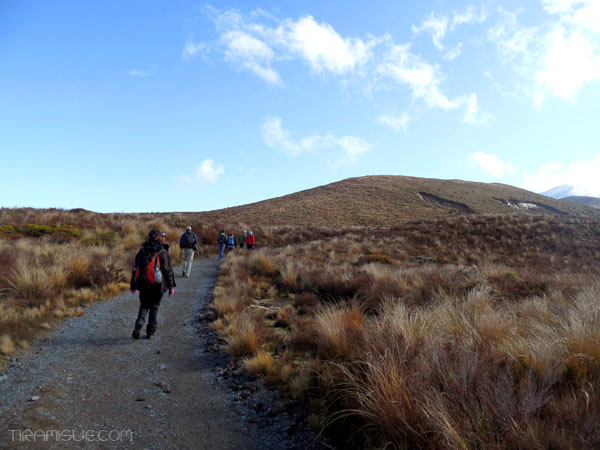 Check out the snow capped Mount Ruapehu in the distance.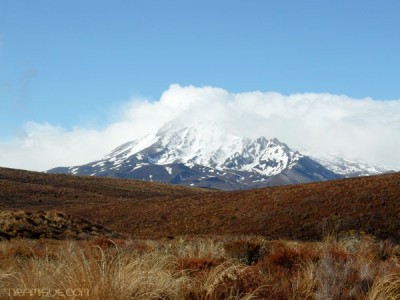 After a while the track joined up with the Mangatepopo stream and it was really cool to walk next to flowing water.
The weather wasn't fantastic (in fact it had rained on our way in); we probably had about equal amounts of sun and cloud. At one point it got rather bleak, but when we turned around to look back a rainbow greeted our eyes!

Pretty depressing sky, aside from the rainbow
For the most part we were walking on the ground, but where the ground got soft or had water there were boardwalks constructed. Our pace was pretty slow – well, I felt I was going at normal speed, but a lot of people kept passing us so I suppose we were slow, walking and munching on snack bars and bananas.
Two hours after we'd started, we reached Soda Springs! Aka the last toilet stop until you are out of the saddle.
The next part of our journey is often referred to as the Devil's Staircase. We go from 1400m to 1600m and it's frickin' tough to climb! Before we attempt to head up we are warned of the dangers.
Still not confident of myself, but there was no way I was going to turn back. We'd already come so far!
Oh maaan that was probably the hardest part of the climb. That climb told me just how unfit I was. Eunice was going pretty well, but me… oh dear every step of the way I wanted to turn back. I focused on the ground and forced myself to put one foot in front of the other.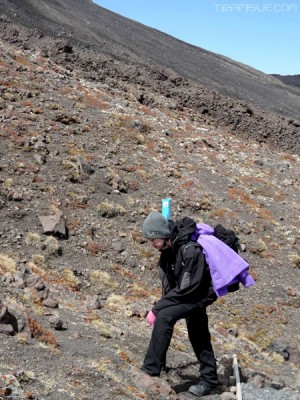 Right, left, right, left, keep breathing
It got quite depressing looking up and seeing the coloured dots of hikers in front of you because you go, What?! I have to climb that?! You push your way through nevertheless and struggle up that ridge and just when you think, oh I must be at the top now, you look past that corner and lo and behold, there's more.
Crushed spirits and cheated feelings were my friends on that climb up. Yep.
On the other hand, turning around and looking and how far you've come was pretty breathtaking. Gave me an energy boost of maybe, 5 steps?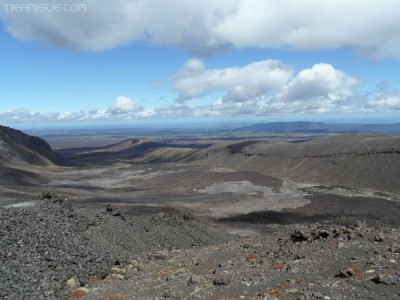 We took plenty of breaks on the way up, or at least, I forced us to take plenty of breaks. I'd flop down on a rock and refuse to move for the next couple of minutes while Eunice waits around and takes photos. Yes, most of these were taken by her! <3
Although part of the reason was that, as I discovered, the iPhone's epic touch screen doesn't work when you have gloves on. We relied, for the most part, on Eunice's Samsung point-and-shoot.
It was also on the Devil's Staircase that we started seeing the first signs of snow!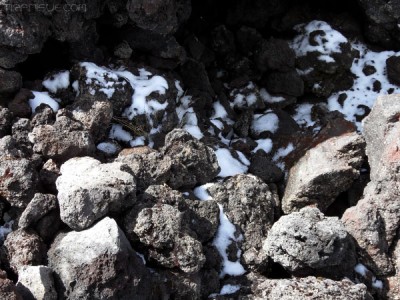 What do you get when two born-and-bred Singaporeans girls see snow for the first time in their lives (PS. Snow City doesn't count; it sucks) – lots of squealing and screaming.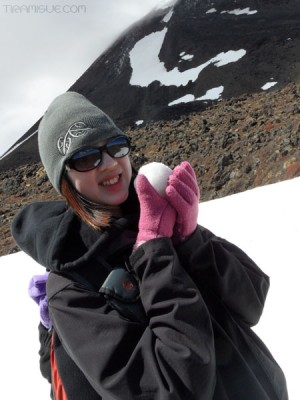 And of course… snow angels!
By this time we'd almost completed the steepest part of the trek and were back on level ground: the South Crater. From here, for those crazy enough, there is an optional side trek to the summit of Mount Ngauruhoe, aka Mount Doom.
Not even the slightest bit tempted. I would be very grateful just to finish the Crossing alive and in one piece. We had absolutely no desire to do more climbing than we had to.
No, we were happy to stand at the base and take cool pictures.
I had to wonder though, how many people actually climb Mount Ngauruhoe just to throw rings into the crater. 'Cos if I was to climb Mount Doom, that's exactly what I'd do!
Anyway, this is the end of Part I of our Tongariro Crossing journey. Part II is more exciting – we do more climbing and I slip down a mountain slope. All in a day's work.