The Playground in the Woods
After a really quiet and rainy New Year's, I was itching to get out of the house and do something fun. So when I saw a link by one of my Facebook friends Ben, looking for people to go on a treetop adventure, I said yes!
I love climbing adventures, I really do!
I've done all of the two high ropes obstacle courses in Singapore – Forest Adventure at Bedok Reservoir, and Megazip at Sentosa! Oh also Via Ferrata at Orchard Central. In fact I've done Megazip twice and Via Ferrata three times I think.
(Here's Sarah Coldheart's recap of our Megazip adventure!)
Anyway I rounded Eunice and another dancer friend Jordan and met at Adrenalin Forest in Porirua. This particular outing was organised by Adventure Wellington, and because we had such a huge group we got $4 off (it would be $38 normally)!
Similar to Singapore's Forest Adventure, Adrenalin Forest has various courses or pathways (1 – 6) in increasing heights and levels of difficulty.
The difference is, at Forest Adventure, you get all the time to finish all courses, but here, unless you are incredibly fast and able to skip all the slowpokes in front of you, it's highly unlikely you're gonna be able to finish all 6 courses because you're only given 3 hours. It's not impossible though; our friend Ben actually did all six within that time frame.
Another difference is that these Kiwi trees are tall as!
(Edit: No I didn't miss a word in that sentence; it's just Kiwi slang. Kiwis love to put 'as' at the end of their words the same way we love our 'lah's. In Singlish this would be "Damn tall lah!")
Trees in Singapore (or at least the ones at Bedok Reservoir) are rather stunted, and Forest Adventure really isn't very high above the ground. The first thing that caught me about Adrenalin Forest, was the sheer height of the trees. At Level 6, you're as high as 26 metres.
I thought to myself, This is like a human version of Lothlorien! (For non LOTR fans it's an elven kingdom built among the tall trees that turned to gold in autumn.)
Anyway we got grouped into groups of four, and the aim of the game was to get as many points as you can for your team by completing the obstacle courses.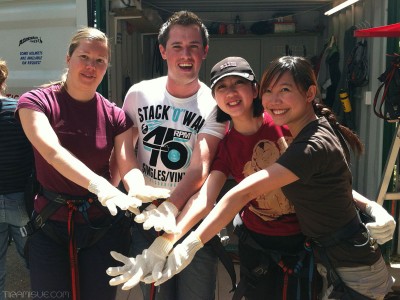 Some stranger who got put in our team, Jordan, me, and Eunice!
At the end of every course you get a flag with a number that corresponds to the level you completed. If you completed Level 6 you would get 6 points, but it would also take a lot longer to finish, as compared to doing Level 1 multiple times.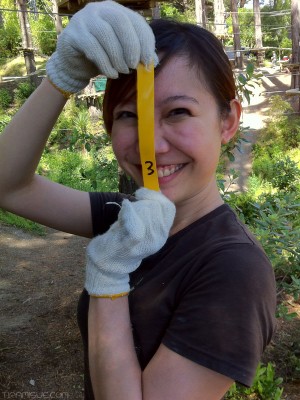 We started out on Level 3, completed that, then skipped 4 and went to Level 5, because I was afraid we wouldn't have enough time to do the upper levels.
Boy 5 was tough! There was this rope bridge obstacle called Slipping Ropes, where taking your foot (and the weight) off the previous rope meant a sudden drop of the rope of your weighted foot!
We were really slow-going on a number of obstacles and when we eventually finished it they were starting to close the various courses.

So we never got to do 4 or 6.
The only course still open was 1 and we raced through it just for heck.
All in all our team earned 39 points, and were ranked somewhere in the middle. We didn't really care about the points though; we just wanted to have fun, and it was a whole lot of fun.
Interesting thing to note is that I barely sweated throughout the entire adventure. It was a pretty hot day, but climate here in New Zealand is so un-humid that I could stay relatively dry the entire day. Doing the same thing in Singapore would have made us sweat buckets!
That's what I love about this place – you can actually comfortably enjoy the outdoors.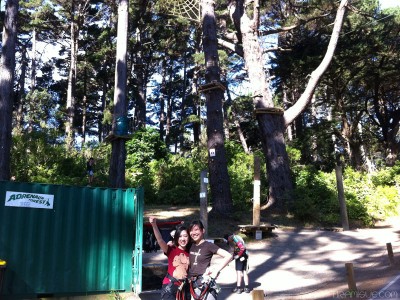 Dinner was back in Wellington at a Malaysian place near our house called Rempah. With good reason too because their rempah was superb! I had an incredibly authentic beef rendang which IMO was the perfect way to end an awesome day.