Three Week Culinary Challenge: Week 2
DAY 8: Monday – 26 December 2011
Spaghetti with Tomato and Chorizo Sausages
Source: The Essential Pasta Cookbook
This was a rather simple tomato pasta dish. Chorizo, onions, chili, tomato pureé and white wine cooked in a frying pan.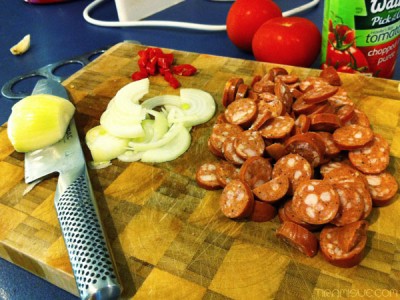 But I didn't deseed the chili before popping them into the pan and the sauce got pretty spicy! Which got me panicky because we had a friend over for dinner and I didn't know if he ate spicy food! (Ok I'll admit it, it was too spicy for me too…)
I picked out all the chili (and seeds) I could spot, diced a fresh tomato, and put that and some hot water into the pan to dilute the spiciness. By then most of the liquid had been cooked off so the added water was fine.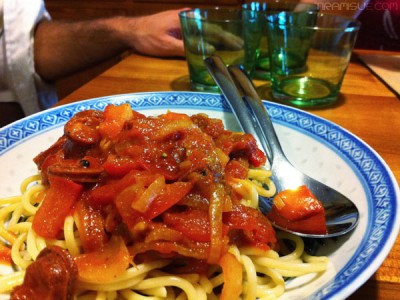 Result: It worked! Still kinda hot, but it was a nice kind of hot and not the kind that makes you run for the milk in the fridge.
FINAL VERDICT: PASS
DAY 9: Tuesday – 27 December 2011
Black Bean Pork and Chinese Styled Broccoli (served with basmati rice)
Source: Mummy (pork) and Jamie Oliver (broccoli)
When my mum or grandma makes this dish, it's one of my favourites, which is why I badgered my mum to give me the recipe so I could try it out too. Garlic, black bean sauce, and pork, cooked in a pot then left to simmer for half an hour.
I didn't know it had to simmer for so long, but according to mum that's what makes pork tender than that's why I was left with hard, chewy meat.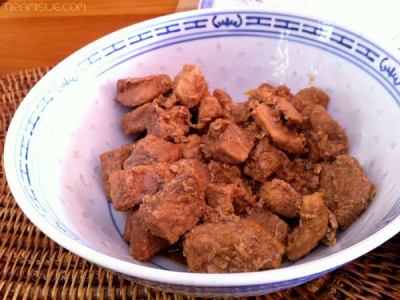 We also made broccoli, and since we were making Asian food I decided it should be Asian style broccoli. This recipe is in Jamie Oliver's Ministry of Food and is very Chinese indeed. Sesame oil, lime, ginger, garlic, chili (deseeded this time), drizzled over steamed broccoli.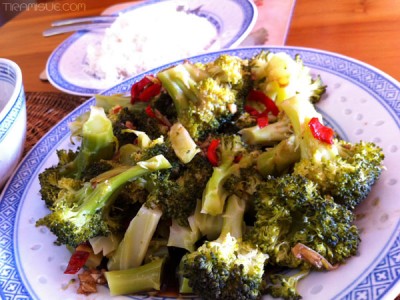 Result: Broccoli was a overcooked and too soft. But the dressing was almost perfect (just a tad too oily).
Sadly and as expected, the pork was tough and there was no gravy. It tasted nothing like how it was supposed to so even though the broccoli was yummy and would have passed, overall it's a fail. I'm gonna try this pork dish again.
FINAL VERDICT: FAIL
DAY 10: Wednesday – 28 December 2011
Creamy mushroom pasta with crumbled fish
We had mushrooms, chorizo sausages, onions and garlic frying in the pan, while I prepared the cream sauce with cream, egg, and parmesan cheese separately. We then tossed the pasta around in the pan for a bit together with the other ingredients.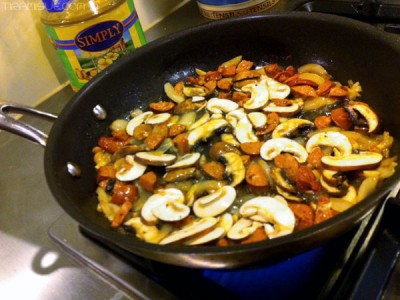 Next came the tricky part. The last time I tried to cook cream sauce for carbonara it failed miserably on me. This time, with the heat off, we poured the cream mixture into the pan and mixed them all up very very quickly before dishing them out onto our plates.
We also had frozen crumbled fish which we just grilled in the oven – not much skill required there.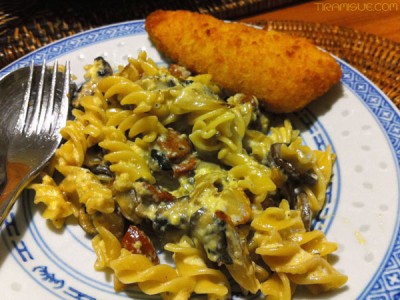 Result: Despite our best efforts the egg in the cream mixture still curdled, but it was nowhere as bad as my carbonara last week. Very yummy dish!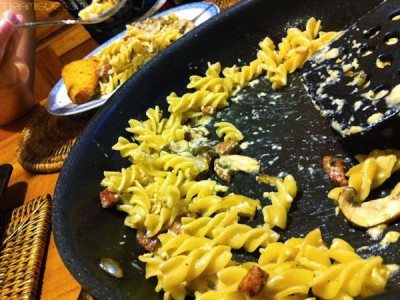 FINAL VERDICT: PASS
DAY 11: Thursday – 29 December 2011
Homemade Kaya
Source: Here, here, and here are the main recipes I followed. I made some adjustments to the quantity of ingredients though (10 eggs?! I'm not feeding an army here!)
Kaya is an incredibly tricky thing to make. In fact I almost didn't want to attempt it because it's so hard to get right!
But what's life without a few thrills? (Also I'm kinda missing Kaya toast…)
Coconut milk, eggs, sugar and pandan are your base ingredients. You can't find pandan leaves in New Zealand (then again I didn't try very hard) so I dropped it. Pandan is primarily for flavouring and colouring and I'm not too bothered by brown Kaya.

5 medium eggs, 250ml of coconut milk, 200g of sugar
I love machines. I swear one day they are gonna take over the world. This Kitchen Aid mixer whisked my coconut milk, eggs, and sugar into frothy perfection. Which then went into my makeshift double boiler.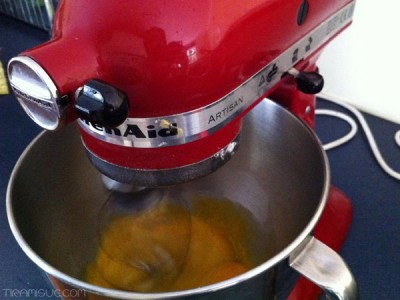 One day machines will take over the world
Even at the lowest flame setting, it would be too hot to cook Kaya directly on the stove so I put it in a stainless steel bowl which went on top of a saucepan of boiling water. The steam from the water would be the main heating element for the Kaya. Just like melting chocolate.
And here comes the tedious bit: stirring. If you stop stirring the mixture will form lumps.
In another pan I caramelised the rest of the sugar that didn't go into the mixture. But because I couldn't stop stirring my Kaya mixture, I had to do the sugar with my left hand, and before it burnt or hardened quickly dump it into the Kaya. I don't even know if that's right because the Kaya started sizzling when the sugar went in!
Anyway despite my best efforts in continual stirring, I still ended up with lumpy Kaya.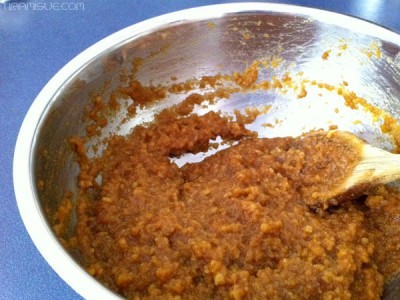 Maybe it was too hot and the eggs cooked too quickly? Because some recipes say it takes at least an hour or more of cooking and stirring, but I was done within half an hour…
Result: Lumpiness aside, the taste was meh.. okay. The taste of the caramelised sugar was much too strong and I think it drowned out the coconut. Or maybe there was not enough coconut.
FINAL VERDICT: BORDERLINE PASS
Non-depressing Instant Noodles
I know instant noodles are banned from my culinary challenge, but I already made my dish of the day so this one is more like a bonus. I think Eunice and I churned this out in like, ten minutes!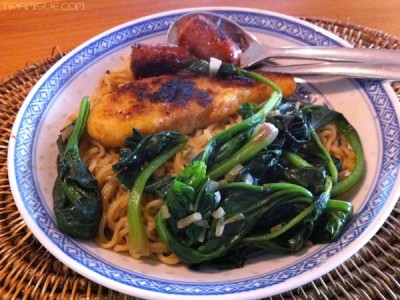 DAY 12: Friday – 30 December 2011
Minced Beef Wellington
Source: Jamie Oliver's Ministry of Food
I've never had a minced beef wellington before but this looked so yummy and interesting in the cookbook I wanted to make it.
Celery, carrot, potato, onion, mushrooms, peas – all diced and tossed around in the frying pan then left to cool. Once cool the raw minced beef got mixed together with vegetables.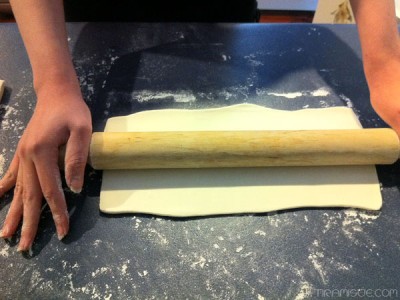 Next we had to roll out the puff pastry. This one that we bought came in two pieces, so we made two smaller beef wellingtons instead of one huge one.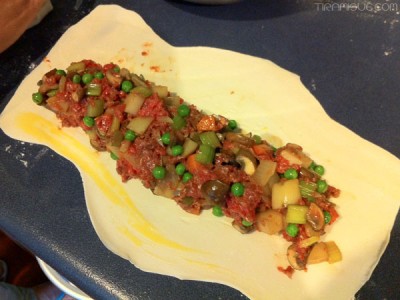 Unfortunately you don't always get a perfect rectangle when rolling! But you still have to wrap it up tight so the ingredients don't fall out.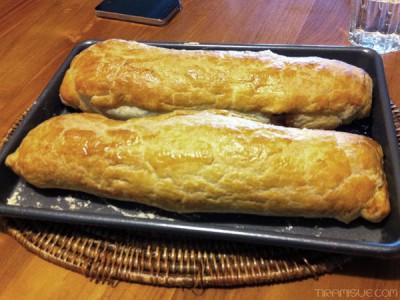 Result: The beef wasn't seasoned before it went into the oven so I think that's why it tasted bland. Also, I think you're supposed to have it with gravy but I didn't know that so I didn't make any.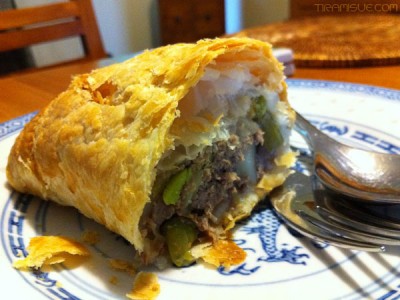 The next day when we ate the remaining beef wellington I made some gravy out of vegetable stock and cornflour and cream and it went really well! Tasted a lot better!
FINAL VERDICT: PASS
DAY 13: Saturday – 31 December 2011
Double Chocolate and Banana Muffins
Source: Alison and Simon Holst's Healthy and Delicious Muffins
Last day of the year and we made a stop motion muffin video! Enjoy! It took us 6 hours from start to finish… longest muffins ever.
DAY 14: Sunday – 1 January 2011
Butter & Jam Cookies
Source: This recipe here.
These cookies were pretty fun to make, although they are rather time consuming. And they require so much butter!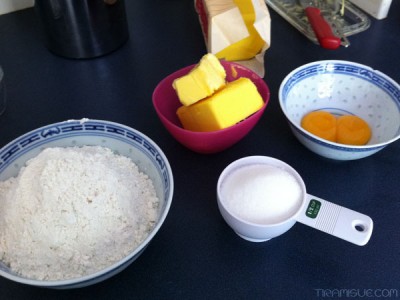 Trying to cream the butter was quite tricky because it was all very stiff and they stuck to my whisk instead of getting whisked. So it was quite a slow going process trying to free the butter from the whisk only to get it stuck again when I tried to mix it.
Then I realised I was using the wrong attachment on the Kitchen Aid mixer. I was using a metal whisk, which would have been perfect for whipping cream and mixing cake batter, but for stiff cookie batter I should be using a flat beater. So I swapped them out. It was slightly easier to work with and I got my cookie dough in the end.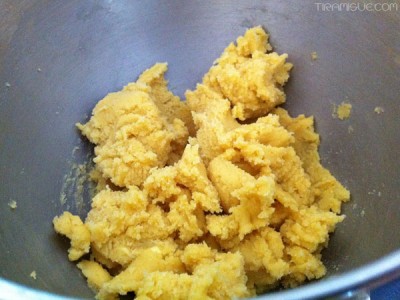 The original recipe yield is 28 cookies, but I made them smaller and ended up with 45, spread across two trays. Only one of the trays had jam filling in it because Eunice isn't too fond of jam.
To make the jam well in the cookie I used a small metal measuring spoon with a nice round head, and spooned jam into it with two teaspoons. That one was a little messy.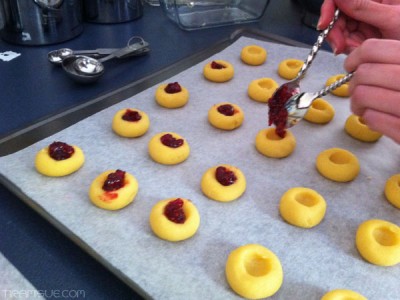 After I made the cookies I found reviews on the recipe that suggested putting the jam into a plastic bag and cut a small hole at the tip. Kinda like a makeshift icing bag. I'll definitely try that the next time.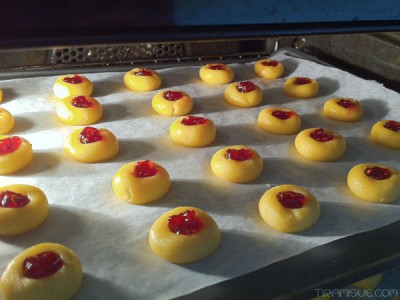 Result: I started out with 45 cookies. By the end of the day there were 12. By the next day they were all gone.
The texture was just perfect. I could taste the butter too but it just wasn't as strong as I'd like. The thing I'd change the next time around would be to add a little bit of salt and a bit of vanilla essense, which I think will bring out the flavour even more.
FINAL VERDICT: PASS
Asian Noodle Broth with Chicken
Source: Jamie Oliver's Ministry of Food
I didn't do this very well unfortunately. Chicken breast coasted in five-spice powder, then fried in a skillet, accompanied by rice noodles in a chicken broth.
I managed to do the chicken bit, but the noodles were a failure. The soup didn't taste good at all, the chicken stock didn't dissolve properly, and most of the water evaporated off because I think I left it on the fire for too long.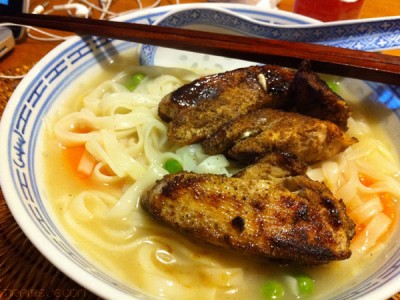 Also by then, we'd run out of vegetables in the fridge, so all I had to put into the soup was carrots and peas. Two in a very long list of Eunice's hated vegetables.
FINAL VERDICT: FAIL