Three Week Culinary Challenge: Week 3
DAY 15: Monday – 2 January 2012
Whole Orange Cupcakes
Since our dancer friend Jordan, came over for a West Coast Swing class and then bought us dinner, I  had to find some other way to fulfill my cooking challenge, and by night time I was hunting for a simple muffin recipe to bake.
Back to Alison Holst's Healthy and Delicious Muffins (boy I really love that book!).
I didn't want to make something I'd made before, yet the ingredients required had to be something I already had. One of the first few recipes in the book was for Orange Muffins, and really this is so so simple!
Aside from the usual stuff you'd need for a regular muffin (flour, sugar, baking powder, etc), the only other ingredient was one whole orange!
Chop the orange up into small pieces, including the skin, put it and the sugar into a food processor and whizz it into a sugar orange pureé!
Add the rest of the wet ingredients to it and give it another whizz, then that whole mixture goes into the dry mixture (flour and whatnot), fold it till the flour is all wet and voila that's the cake batter!
Result: Absolutely delicious! The easiest muffins I've made so far and it tastes amazing!
FINAL VERDICT: PASS
DAY 16: Tuesday – 3 January 2012
Nothing was made on this day so it's a FAIL. This was the day we adventured in Adrenalin Forest and when we got back I was really tired so I didn't make anything. I couldn't even bake a quick tray of muffins cos I'd done that the day before and we still had a whole lot!
BUT! I did make the marinade for the steak I was planning to cook the next day, so it's not like I did absolutely nothing.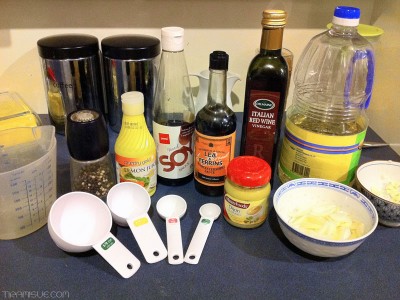 Things that go into a steak to make it nice and tender
DAY 17: Wednesday – 4 January 2012
Steak and Garlic Shrimp Spaghetti
Following up from the night before… I made steak of course, but I had to think of a side dish to go with it, and eventually I settled on a Aglio Olio type Mediterranean spaghetti.
Doing this involved three pots on the stove and some multitasking, so thank goodness I had Eunice.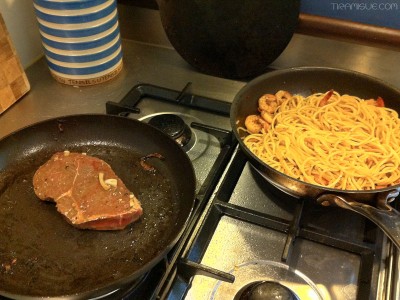 Result: The spaghetti was good, although I would have preferred it more garlic-ky. The first two steaks I made were a little tough, and I thought the third one which was more rare, was better. I still can't quite get the hang of cooking steak though. Steaks are hard to cook!
Jordan, who is fast becoming our food guinea pig, thought it was great though.
FINAL VERDICT: PASS
DAY 18: Thursday – 5 January 2012
Prawn Curry
Probably the most epic dish of the week, and it wasn't even made by me.
No prepackaged nonsense, this prawn curry was made FROM SCRATCH. So scratch to the point we were roasting spices and then pounding them with mortar and pestle.
Like a boss!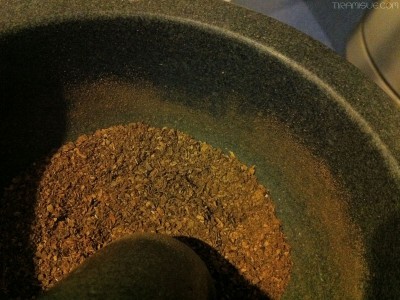 This is Mike. He's the real boss chef. And he's great at cooking Indian food!
And then there's me, the pretend chef. Who is good at um… making low fat muffins? :p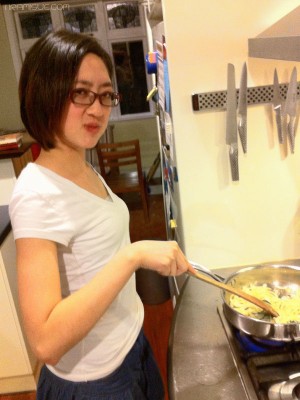 Fresh curry leaves mustard seeds in olive oil to start it all off.
Then slowly the other stuff go in, like onions, garlic, ginger, water, even more spices, chili, etc… till you get an interesting looking broth of stuff.
Last to go in are the coconut milk and prawns, and the end result is a pot of pure epic-ness.
Result: I think it's testament to the food that there was absolutely no curry leftover after our meal.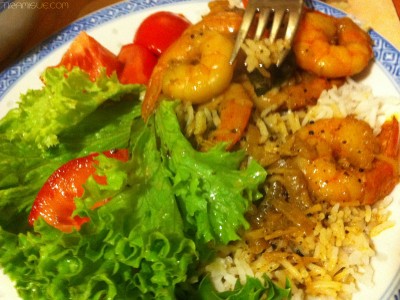 The trick now, would be for me to replicate that. Hmm…
DAY 19: Friday – 6 January 2012
Black bean chicken and beef, bak choy, and rice
Eunice and I got our first paid work and were pretty tired out when we got home, so unlike the previous night, dinner today was a quick and quiet affair. A dinner of quick(ish) stir-fries. Very Asian.
This is very similar to a dish I made in my first week, except that this time I've added chicken, and a huge bunch of coriander. Eunice hates coriander. But our coriander was starting to wilt and I didn't want to waste it so I chopped everything up and added it to the meat and vegetables.
Result: Poor Eunice spent the entire meal picking out the stringy green vegetable from her food. There was quite a heavy coriander flavour in the food, which I didn't really mind, but Eunice hated.
FINAL VERDICT: PASS
DAY 20: Saturday – 7 January 2012
Pineapple Summer Slice
Source: The back of a Golden Circle can of chopped pineapples
I wonder if people who write recipes on the back of food cans and cartons actually tried making them.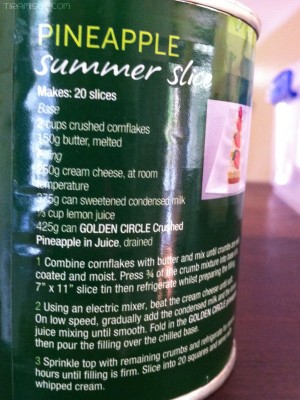 Today's recipe caught my eye because it used two things that I've been trying to get rid of in the fridge – cream cheese and condensed milk.
I hate crushing cornflakes. On hindsight I should have used a food processor but I was too lazy to get that out. Also I had no clean plastic bags for the pounding-in-a-bag method so I ended up quite awkwardly crushing it bit by bit before putting it in the bowl.
Then came mixing it with butter, also tricky because although relatively soft, the butter was still solid. Ended up heating it a little to melt it further.
I'm just gonna skip to the end here.
Result: The most epic fail cheesecake I've ever made. I've made cheesecakes before, and they were good. The failure of this particular dish is in it's recipe.
Who uses cornflakes as a base for cheesecakes anyway?? You use digestive biscuits!
And even after refrigerating for several hours the cake was still runny. I'm glad I halved the recipe and used cream cheese that was gonna be thrown out.
FINAL VERDICT: EPIC FAIL
DAY 21: Sunday – 8 January 2012
It was storming the whole day today so what did I do? Spend the whole day in the kitchen.
Carrot Cake
I got this recipe from one of Mummy's good friends, Auntie Jasmine, who is an amazing baker. Her carrot cake has always been one of my favourites and I've honestly never tasted any store bought or restaurant served carrot cake that's better than hers.
Srsly.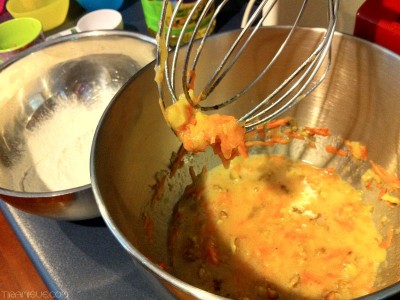 Making the carrot cake batter was easy enough.. but next I had to grease the cake tin, which I'd never done before. I have no idea if I did it right, smearing butter all over the dish with a pastry brush.
But it's not over even after the cake went into the oven. What's a carrot cake with no cream cheese topping?
It was particularly hard trying to whisk the cream cheese and butter together because both were quite solid, but I got it eventually.
My next challenge came in trying to get the freshly baked cake out of its tin. Even after I gave it a few minutes to cool, it did not come out easy. I broke off a chunk trying to get it out!

But no fear, we can cover up the cracks by putting the frosting on!
In my hurry to frost the cake, I didn't realise that it was still warm. Or well, I knew it was warm cos it just came out of the oven, but my brain didn't put two and two together.
I start frosting the cake (which by the way, is FAR harder than it looks), and the warm cake turns it all soft even before I'm done. The only option was to just frost the entire cake as quickly as I could and then chuck it into the fridge.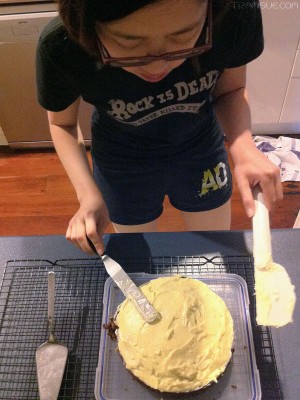 I also ended up with more frosting that I needed, and trying to put cold cream cheese on melt-y soft cream cheese just ruins all the work you've done. Eunice suggested slapping them on the sides, but then there was not enough of it to go around in a proper layer.
Result: Looks like disaster but tastes like heaven.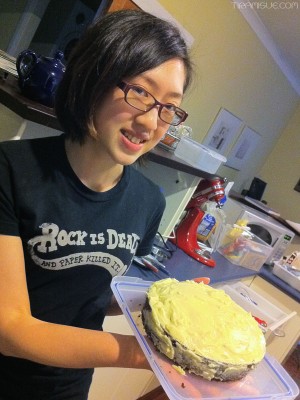 I think I've got the taste down, but my presentation has still got a ways to go.
Eunice says its the most epic dish I've made in the past three weeks. Such high praise from a carrot hater has got to mean something!
FINAL VERDICT: EPIC PASS
Spaghetti Bolognese
Source: The Essential Pasta Cookbook
No rest for the weary. After carrot cake making it's straight to dinner making.
I had an extra cup of grated carrot from the carrot cake because I halved all the ingredients except that, so it went to our bolognese sauce instead. Making this was kinda time consuming because we had let the sauce reduce for an hour before it could be served.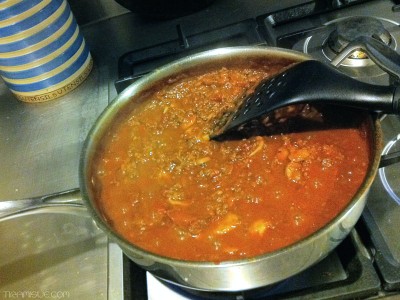 Result: It was well worth the wait, because there was so much flavour in the bolognese sauce that you just can not get in pre-packaged pasta sauces.
FINAL VERDICT: EPIC PASS
And my culinary challenge ends with a bang!