Best of the Best 2012
Despite my slight misgivings about coming to Sydney, and a sudden emotional breakdown in the middle of the event, I had a really really good time at Best of the Best.
After partying the day before, we dragged ourselves out of bed, caught a ride to the closest station, then began a 2 hour journey from South Sydney to Rooty Hill RSL, which is way out west in the middle of nowhere. Because it was so far out with nothing around, most of us had no choice but to stay in the joint hotel for the duration of the event.
A one and a half hour train ride and twenty minute trek from the station later, we checked into our shared hotel room.
It was modern, roomy, and nicely done up, except for the white curtains with red paint splatters on them. Doesn't require much to imagine what else it could resemble.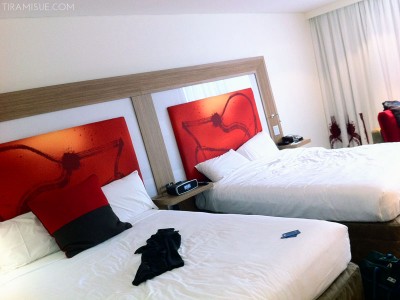 This was my favourite item in the room. I know it's really common nowadays, but I was still surprised that a hotel room would have an iPod dock/speakers.
In fact I like it so much I think I'm gonna get myself one when I get back home.
While I went straight to the bed, Eunice unpacked our food rations.
Because the hotel room ate up almost all our budget, we decided we weren't gonna eat out; bread, butter, baked beans, sardines, tuna, ham, cheese, etc should be enough to sustain us for three days.
Workshops with Jordan and Tatiana were good fun, although I can't say I attended all of them.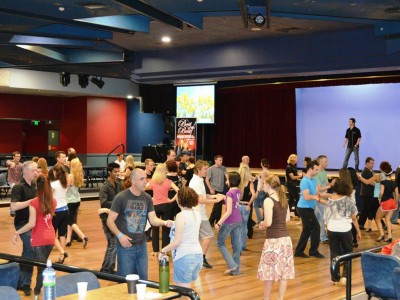 (Photo by Debra Buchanan, courtesy of Nuroc Dance Co.)
As a follower, I don't attend workshops to learn turn patterns or fancy new moves and etc. The things I pick up are more subtle, like hand positions, arm placement, footwork and technique – these little things that can really make or break your Jack & Jill competition performance.
There was a Jack & Jill* competition at Best of the Best, naturally. But it was quite unlike the first (official) Jack & Jill that I took part in at the New Zealand Open.
There are soo many good dancers this time 'round dancing in the Novice division, and after watching my own performance (which had many cringe inducing moments) I knew there was no way I could have placed.
(Photo by Debra Buchanan, courtesy of Nuroc Dance Co.)
 Sexyback sweatshop at work! We did our fair share of t-shirt cutting too, which definitely helped to cover some of our accommodation costs.
Anyway check out these awesome videos from Saturday night's performances.

I'm Sexy and I Know It – Nuroc Dance Co.

More – Jordan Frisbee & Tatiana Mollman
I've seen this routine so many times on youtube, but watching Jordan and Tat live just takes everything to a whole new level.
AMAZING.
Can't wait to come back next year!
* Jack & Jill is a West Coast Swing social dance competition where you dance with a random partner and to a random song, and are judged based on your ability to lead or follow.