OZ! OZ! OZ!
Barbecue and booze. A typical Australia Day celebration. This one though, had a pool involved as well.
We've been to a few Aussie and Kiwi parties so far, and something I've come to discover is that most parties here operate on a eat-what-you-bring and drink-what-you-bring basis. If you want steak and kebabs you bring your serving of steak and kebabs, get it barbecued and that's yours. Same goes with the alcohol.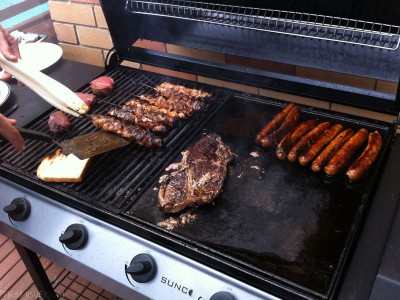 Still, there is some sharing involved; if someone brought extra food its free-for-all, or you could swap your sausage for burger, etc. But on the whole it's still a you-feed-yourself principle.
While that's not a bad principle to run a party on (and ensure there are no freeloaders), I find I much prefer our system of parties back home: the potluck way.
Everyone brings one (or two) dish(es) and maybe a few people are in charge of booze and everyone shares everything. There'd be more work involved trying to organise everyone so that there are sufficient starters, mains, desserts, etc, but the result is a far more communal meal and ultimately a better party.
Plus you get to sample everyone's food and everyone tries your food, which is part of the fun!

Like this tub of amazing tiramisu contributed by one of the girls!
And honestly, it's so much easier to focus on one dish and make it awesome, than to make a bit of everything for yourself.
I guess, like typical Singaporeans who love food, at any party of ours the food's gonna be the highlight and it's something that could make or break your party.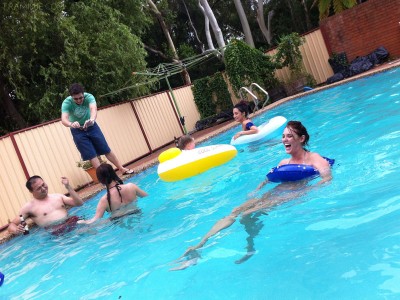 At an Aussie party though, I'd say the highlight would probably be the alcohol. At this one, I think it was the pool AND alcohol haha.
On National Day in Singapore, most would be party-ing and watching the parade on telly or looking out for the most astounding display of taxpayer's money fireworks. Here on Australia Day, there aren't any nationwide festivities (at least none that I could tell) – it's really just another excuse to get drunk.
So in true blue Aussie fashion, everyone was smashed by the end of the day.
Fun times.