The Queen Charlotte
As I trudge up the steep incline, my leg muscles screaming and my lungs out of breath, I ask myself for possibly the hundredth time that day, What did I get myself into?
Four of my companions are at least ten metres ahead of me now, and seem to be managing the uphill walk with far more ease. Sounds of their laughter and chit chats float back down to me while I struggle to take in large enough breaths of air.
Up ahead my friends pause, waiting for me to catch up before going on. If I wasn't so busy trying to breathe, I'd have felt a twinge of guilt for slowing them down.
"Do you want a break?" one of them asks. I shake my head stubbornly. I'm good, I can go on. My lungs and legs are killing me, but I walked myself into this, and I'll walk myself out of it.
—————
Tramping
According to Wikipedia (because Wikipedia = the truth):
Tramping, known elsewhere as hiking or bushwalking, is a popular activity in New Zealand. Tramping is defined as a recreational activity involving walking over rough country carrying all the required food and equipment.[1] The term is generally used for trips that are of at least one overnight stay in the backcountry. The term is commonly used in New Zealand, and in Australia to a lesser extent (see bushwalking).
I had never heard the word tramping before I got to New Zealand. Even after I got here, I only had the vaguest of notions of what it actually involved. So when Ben told us he was going tramping on the Queen Charlotte, I had to double check exactly what that involved.
"So… you sleep in a tent?"
"Yes. At a campsite."
"Oh there's a campsite! So there'll be like, showers and things right?"
"Uh, no not usually…"
"What, you mean I can't shower?!"
"You can take a swim!"
But saltwater and my hair don't get along very well…
"Oh well there'll at least be power points so I can charge my phone right?"
"You're in the bush! Why would you need your phone??"
"Um…"
I was quite hesitant of going on the Queen Charlotte tramp at first, but Eunice was all for it. It was a 71km walk that you did over four days. I just wasn't sure my fitness level was up to it.
Unlike regular tramping though, on this one you could get your packs (that contained your food, sleeping bag, tent, clothes, etc) delivered to the campsite by boat everyday, and only take a day pack with you. That was very appealing, because there was no way I can bushwalk long distance carrying ten kilos on my back. My messed up once-sprained left foot would not agree to it either.
I know Kiwis people do that all the time. But they're crazy. And I'm not. I only said okay to the tramp after I made sure that I had an 'escape route' (which was to go with the ferry that transferred our packs) if I couldn't walk anymore, or wanted to skip walking for a day.
Then we went shopping for supplies. First on my list: a compression bandage for my foot.
—————
Queen Charlotte
We spent the night at Ben's parent's place in Nelson, where we borrowed additional packs, sleeping bags, a tent, and numerous other things one generally needs when camping. For one wild moment I considered sneaking in my hair iron, then I remembered our campsites didn't have a power supply. Darn. Well I suppose if I could live without showering for three days, I could live with ugly hair.
We drove up to Picton the next morning to meet the rest of our group, Tim, Sarah, and Irene, and caught the midday ferry to Queen Charlotte.
Instead of starting at Ship's Cove, the usual start point of the Queen Charlotte track, the ferry guys at the Endeavour Express recommended we start at Endeavour Inlet.
26km in distance, it would have taken a full day of walking to go from Ship's Cove to Camp Bay, our first campsite, and well, we only had half a day, so we did half that distance.
Which I was extremely thankful for. The second day is meant to be the most grueling, and I really did not want to wear myself out before that.
—————
Trekking + Camping
The walk from Endeavour was not very hard going, and it gave my body a chance to ease itself into bushwalking, which is quite different from walking on the road or on pavement. Or in the mall. Or on the dancefloor. All of which I'm very used to. Bushwalking though, not so much.
The view definitely far surpasses any of the above. Although the walk was shaded for the most part, we could catch glimpses of the Marlborough Sounds through trees as we climbed higher. As beautiful as they were, they were just a breathtaking taster of the views to come later on.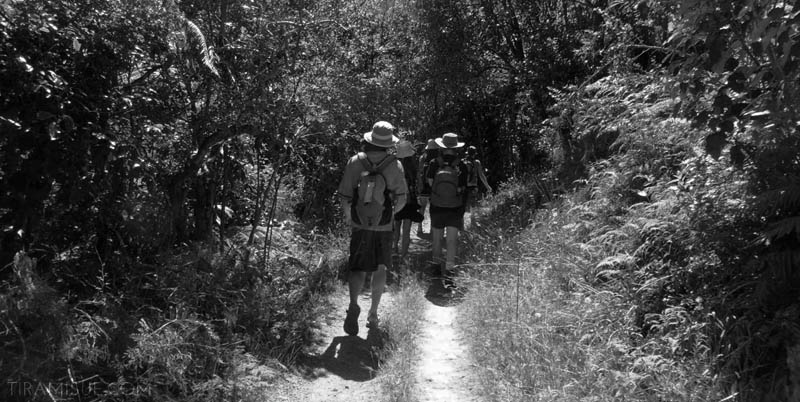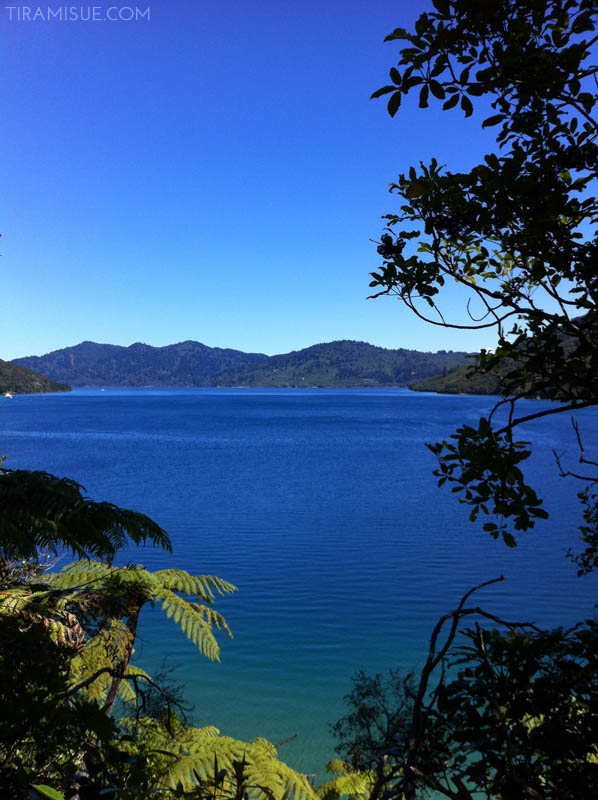 Walking is hard work and the best way to cool off at the end is with a swim in the bay. We spotted at least three stingrays in the shallows, and Eunice and I subsequently acquired a massive craving for sambal stingray. It's something you MUST try if you ever visit Singapore.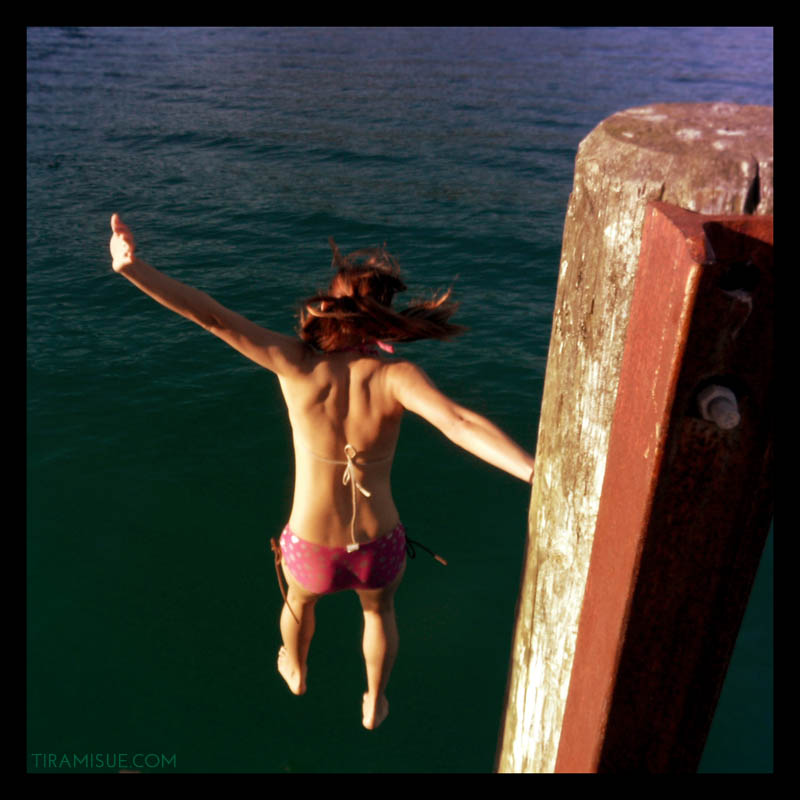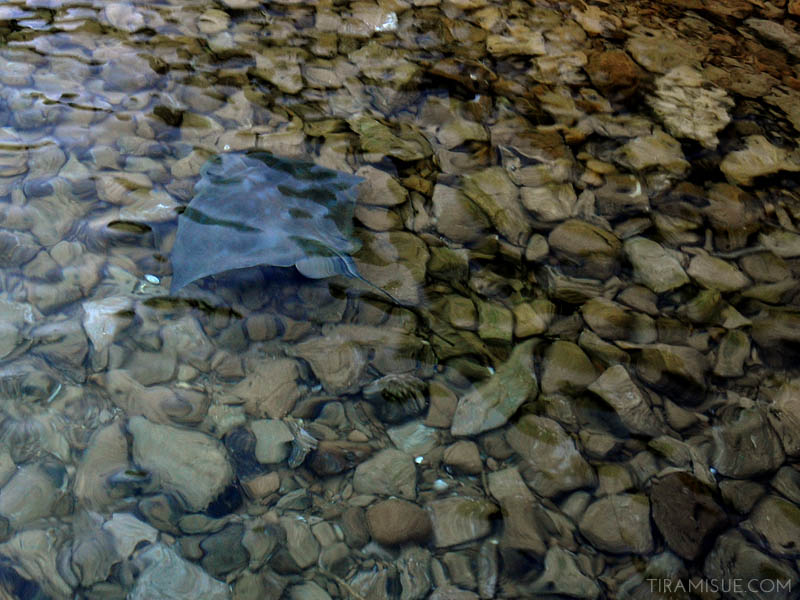 With no showers at the campsite, the best I could do after my swim was to wash as much saltwater out of my hair as possible under the tap. I quickly toweled off and tried my best not to think of the remaining seawater on my skin.
"You're not gonna die if you don't shower for a day. Or two or three days for that matter…"
—————
Talk about a Gourmet meal!
When I think of camp food, I think of dry, hard, tasteless rations. Army food. I certainly wasn't thinking of this: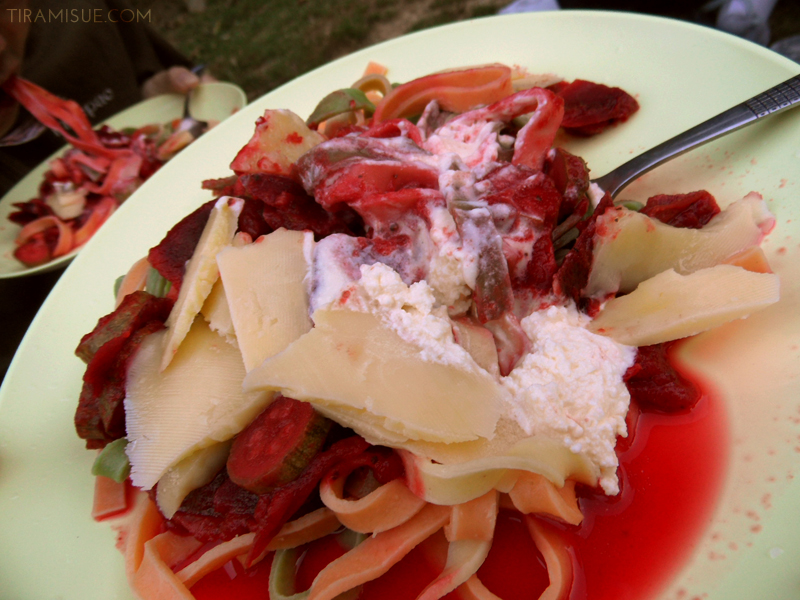 Not only did Sarah and Irene do all the food shopping and planning, they did all the cooking too! I think we eat better camping than we are not camping. These ladies are phenomenal!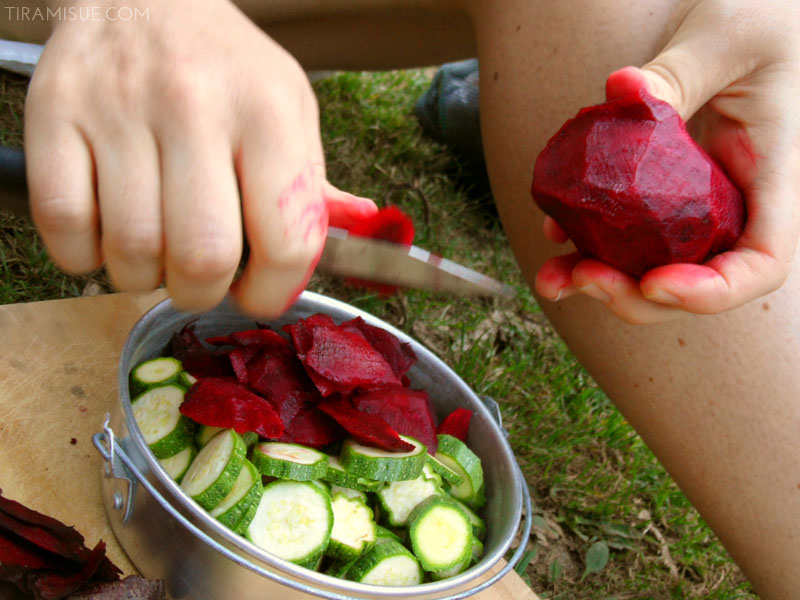 Dinner was delicious! Of course you could say our judgements were biased after walking for four hours, but I'm quite certain this dish would've held up spectacularly at a regular dinner anyway.
I certainly never thought we could have things like pasta and curries on a camping trip! Yes curries.
—————
Is this the right way up?
I think we got the hang of pitching our tent pretty quick, but getting into my sleeping bag was a whole different ball game! It's a lot harder than it looks, okay? I was probably pretty entertaining, given that all Ben did was watch from outside our tent and laugh at my efforts.
Hey I've never done this before!
There was the mat, the sleeping bag itself, and then a sleeping bag liner, which you had to get into before getting into the sleeping bag. The liner was essentially a long huge bolster case that you slipped into before getting into the sleeping bag. It's all far more complex than it sounds! I eventually reached the correct state of a sleeping bag caterpillar, much to everyone's amusement.
I didn't expect it to be comfortable, and I didn't expect to be able to sleep. It certainly wasn't comfy, but I drifted off pretty quick nonetheless.
Onward to Portage
The next day saw gorgeous weather as we climbed steadily uphill from Camp Bay. It was quite tough for me climbing up, but once you get up there, the views are magnificent! We did pepper the hike with plenty of breaks, which I was grateful for.
For the most part, the track followed the ridge-line of the Sounds, but would vary from forested paths to wide open spaces and everything in between. I particularly enjoyed the forested trails, even if the Sounds were out of sight.
The mountains are so vast you really can't capture them all in one shot. That's why we ended up with several panoramas!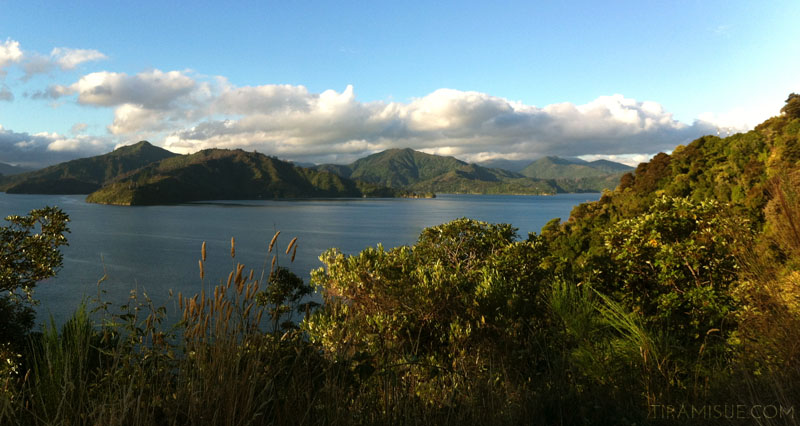 Food always tastes better when you've worked hard for it!
Throughout the entire walk I was having a constant internal debate on whether it was harder uphill or downhill. Although I hate climbing uphill (and am really bad at it), I came to the conclusion that downhill is probably worse. Uphill is really tough on your thigh muscles and a killer on your lungs. But while your lungs can relax on a trek downhill, your ankles and knees will pay the price. Especially if it's steep.
And I don't have strong knees or ankles to start with! Also, if you have sore and blistered feet (like I did), going downhill actually hurts more than up.
The last one and a half to two hours of our walk was almost entirely downhill and by the end of it I was taking tiny limping steps because my feet hurt too much!
After an extremely intense and grueling 8 hours, we reached Portage Bay, collected our packs and headed down to the campsite.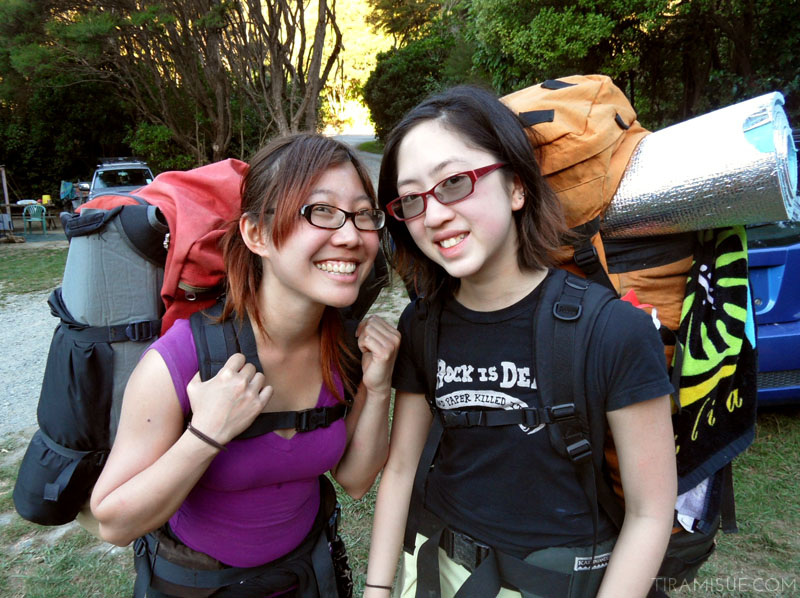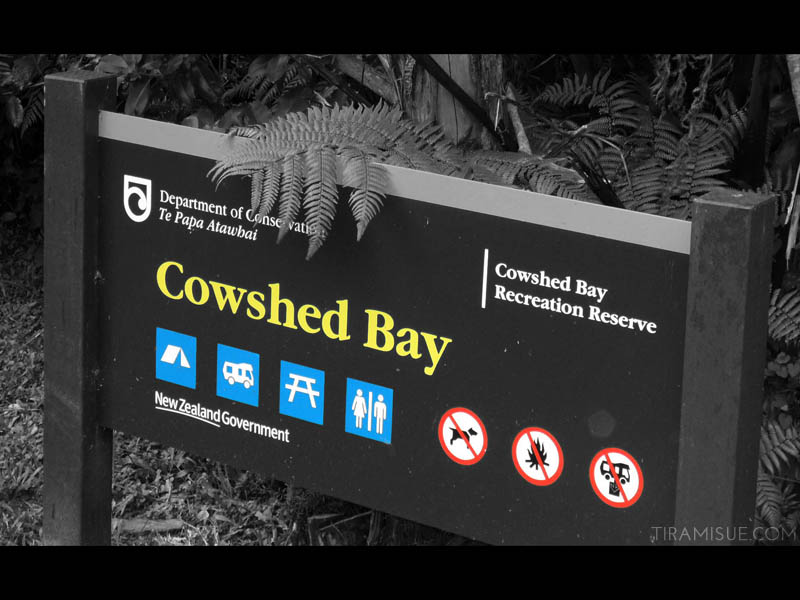 Casualties: Three giant blisters on three toes. Solution: Slap plasters on them and keep walking.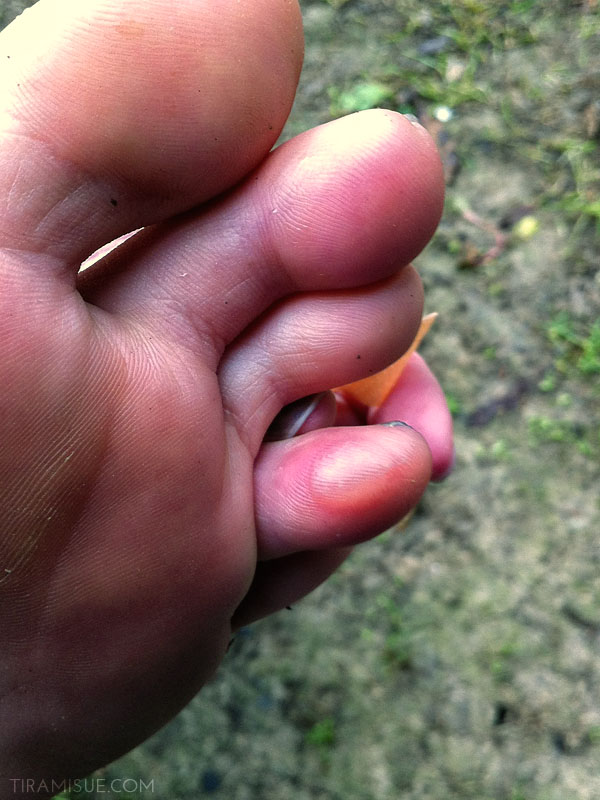 You're a spy!
Tim taught us this game that we couldn't stop playing for the three nights we were camping together! It's called Resistance, and while it's not a card game, it is played with cards. The gist of the game goes like this: you are either a spy or a civilian with a set number of lives; the spies know who they are, but the civilians don't. Both spies and civilians will be racing to reduce their opponents lives to zero.
Tim and Irene are pretty good at logical analysis, and you definitely need a LOT of that to win in this game. After a number of rounds it's just a matter of elimination really. It was still very funny, very entertaining, and very good practice for your poker face.
Eunice and I were discussing it some time later and we've added a new rule which should make the game even more exciting and nerve wrecking. It's not tested yet, but it won't be long because we're taking this back to Singapore!
Dying cicadas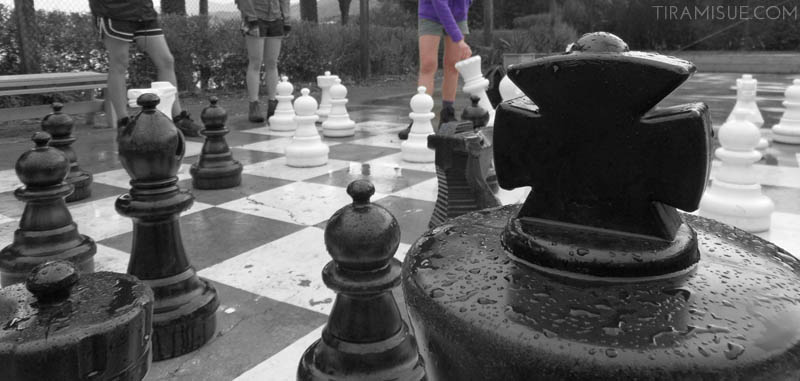 On the third day, after a boys-vs-girls game of life size chess (which the girls lost), we continued on our journey. Despite the rain and dreary weather (and my blistered toes), I really enjoyed the walk. For one, it was far more relaxing than the previous day since we only had a 4 hour hike to our next campsite, and the rain meant cooler weather. No sweating buckets!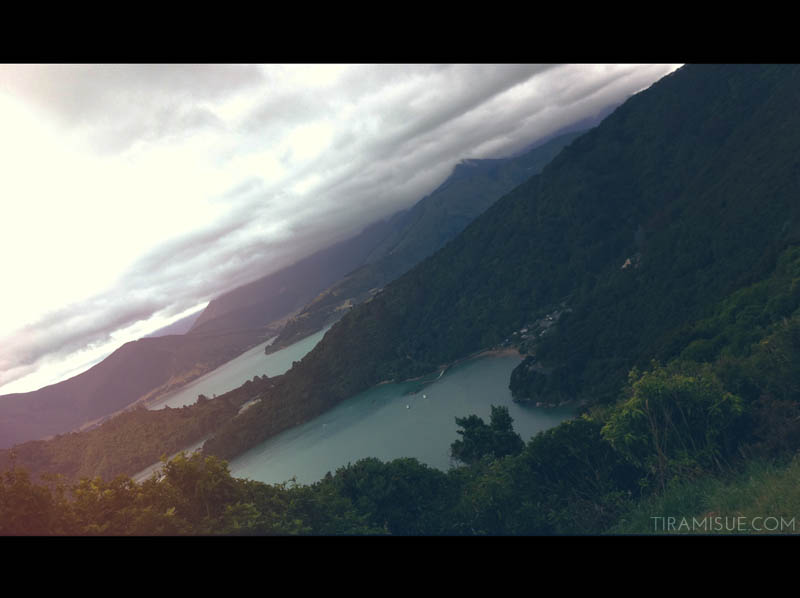 Cicadas were a constant throughout our tramp. They're such noisy, rowdy insects, screeching angrily above and around us. I doubt they're actually angry; it just sounds a whole lot like that!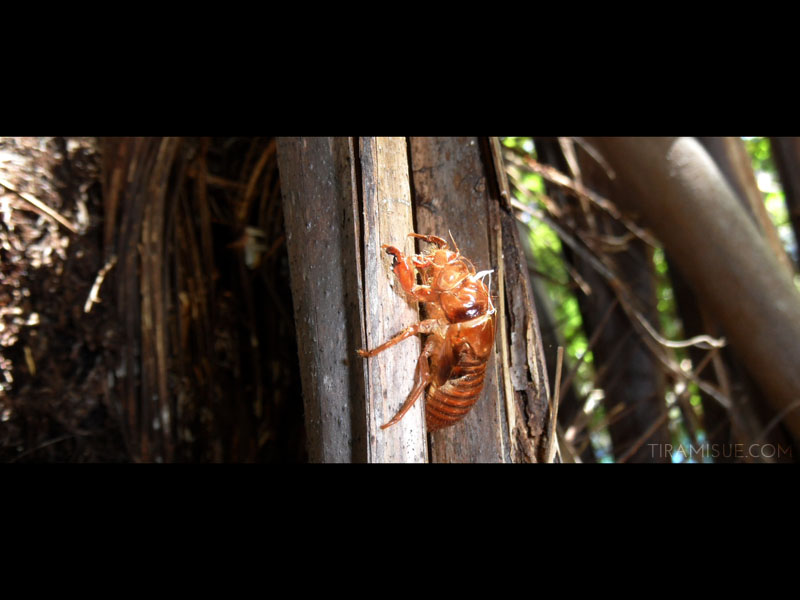 An empty cicada shell
We're not really sure if it's the cold weather, or just the end of a life cycle, but the cicadas that day didn't seem to be behaving normally. There were so many on the track and around us that were trying to fly but failing. It looked like they were sputtering out of life.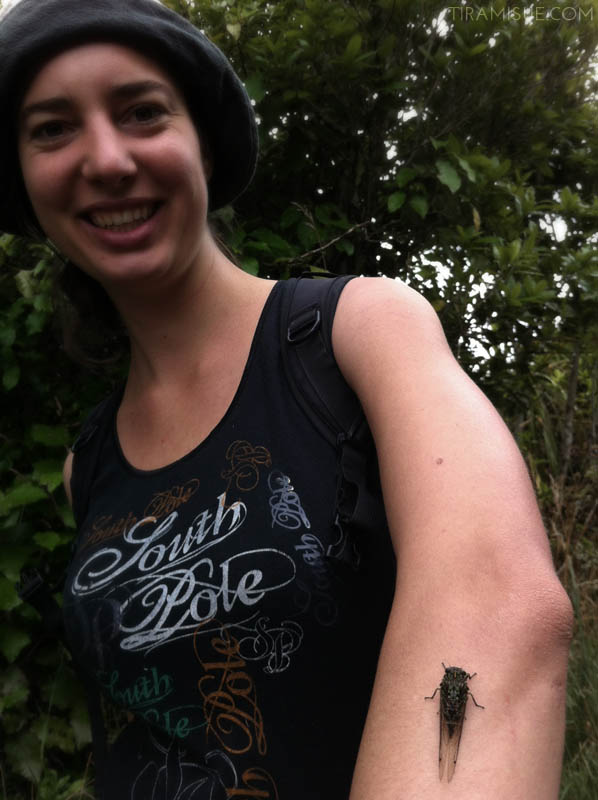 This section of the walk took us over 400m above sea level to the highest point of our tramp. It was a beautiful view out to the surrounding regions!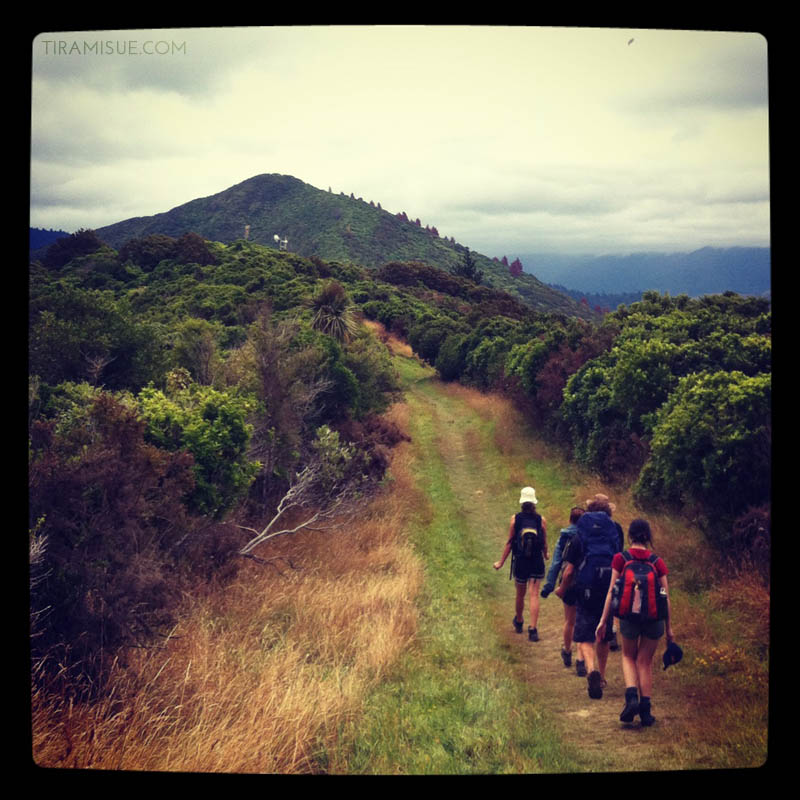 Descending to Mistletoe Bay through forests like these, I felt like I was in Tolkien's Middle Earth. There was such a mystical air to it. It's really not hard to see why Peter Jackson shot Lord of the Rings in New Zealand.
The Men make Shelter
Mistletoe Bay marked the end of our walk for Eunice and I. The other guys walked another 13km the following day but we decided that was it for us.
Waiting for our packs to arrive by ferry 
Mistletoe Bay is a notch above the campsites we were camping in for the past two nights. This one had a fully working kitchen, toilets, hot showers, and even a mini store.
Once we collected our packs the guys set about putting together a makeshift shelter while the rest of us pitched our tents.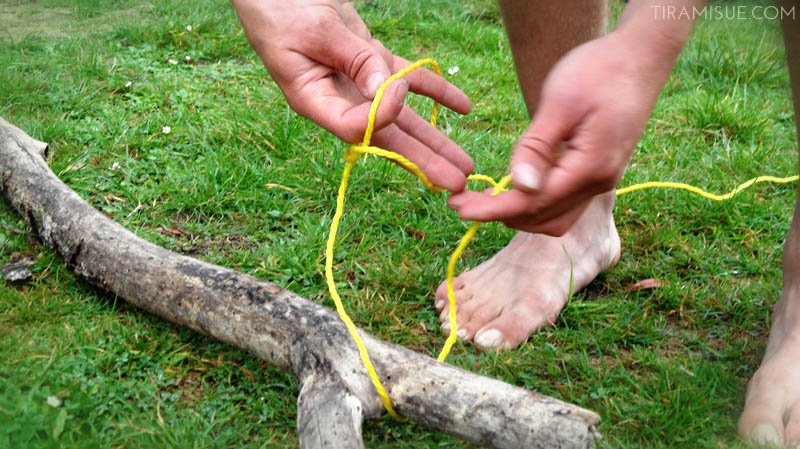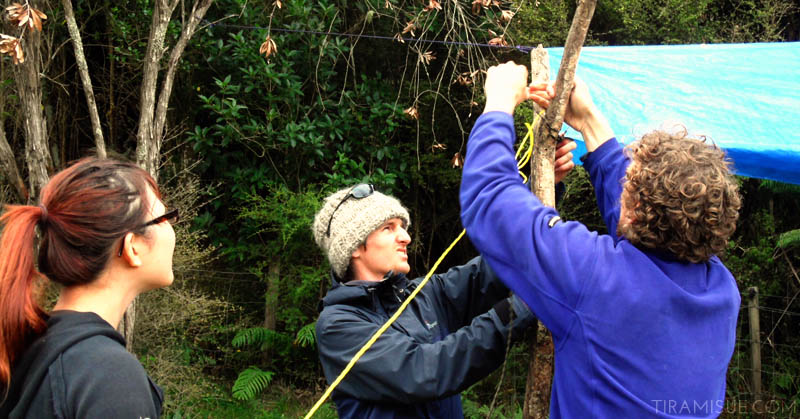 And then I had my first shower in three days. It cost me $2 and only lasted 4 minutes, but it made me happy! Oh where would I be without my creature comforts!
The following day while the rest walked to Anakiwa, Eunice and I lay in the sun, ate ice cream, swam in the sea, and just chilled out till the ferry came and got us.
Sue <3 Alpaca!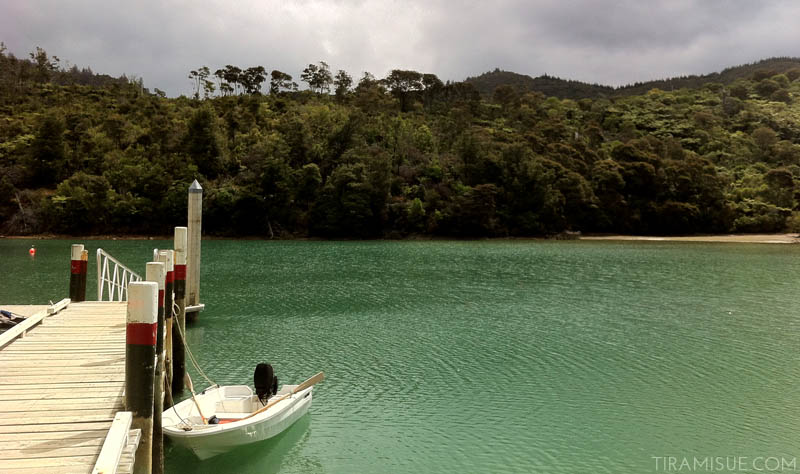 After we got picked up, the ferry picked up the others from Anakiwa and then it was back to Picton for all of us.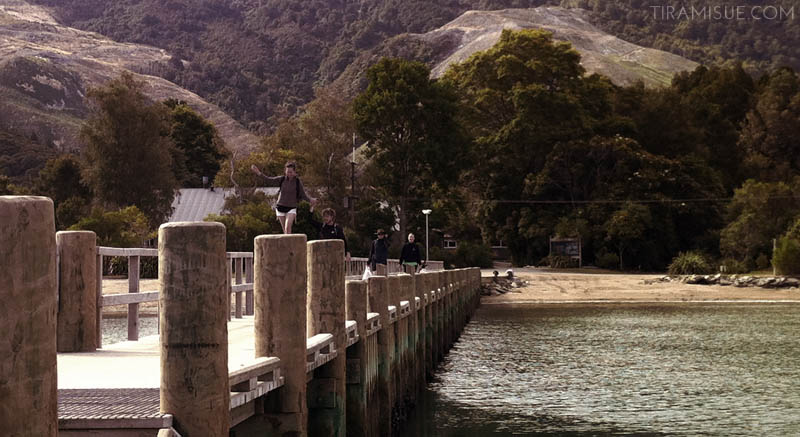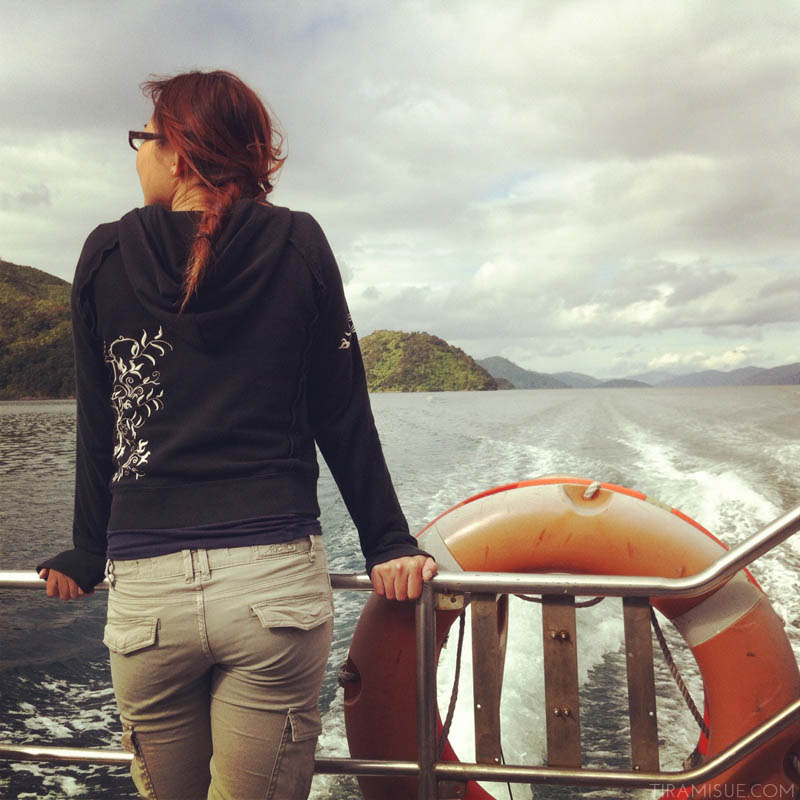 I can safely say that tramping on the Queen Charlotte would remain as one of the highlights of our New Zealand trip. As my first tramp ever, it was an incredibly memorably experience.
Thanks Benjamin, Tim, Sarah, and Irene for having us along and putting up with us!
Note: To view the full photo set from our trip (edited by Eunice!), click here!